Hire Costello College of Business Students and Graduates 
Executives or interns, we've got you covered. The Costello College of Business at George Mason University nurtures students who are bright, resourceful, and prepared to make immediate contributions to your organization. Learn how to find our students.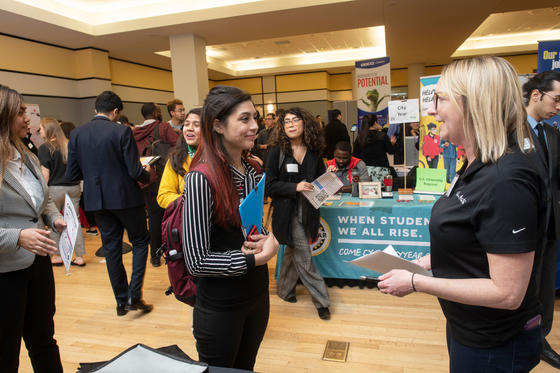 Thank you for your interest in learning more about our students and opportunities to engage with the Costello College of Business. The information below will help you discover the programs and services available to link employers with students across our graduate and undergraduate programs.
At the Costello College of Business at George Mason University, we: 
Focus on student career success in a global business environment, whether graduates work for a Fortune 500 company or for themselves as entrepreneurs. 
Are one of a select number of business programs worldwide (190 of 2,000) with Association to Advance Collegiate Schools of Business (AACSB) accreditation in business and accounting.  
Are ranked in the top 10 percent of AACSB-accredited business schools by U.S. News & World Report. 
Ensure our students gain experience in a global business environment through academic courses, experiential learning, and participation with nationally-recognized student clubs and organizations. 
For more information about recruiting and networking opportunities, contact: 
Kerry Willigan, Assistant Dean of Career Services
kwilliga@gmu.edu
(703) 993-2140
Event Sponsorship Opportunities
As an event sponsor, you'll stand side-by-side with the Costello College of Business as we inspire and teach the next generation of the workforce. Event sponsorship opportunities include the ability to:  
Host an Industry Crawl 
Bring students to your workplace and allow them to experience operations first-hand. 
Host an Event 
Let our office work with you to create a customized event. Examples include sponsoring an ice cream social, hosting on-campus office hours, or hosting a brown bag lunch. The possibilities are endless. 
For more information about event sponsorship opportunities, contact Christina Spring, Director of Advancement and Alumni Relations, at cspring4@gmu.edu.