The School of Business and George Mason University offer many honors opportunities for undergraduate students.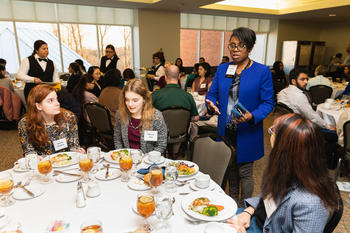 Honors opportunities include academic programs, faculty supported research, and honors societies representing a diverse set of interests and experiences.  
Participation in an honors program is a great way for you to distinguish yourself and gain valuable experience in leadership along with professional development opportunities.  
School of Business Honors Program
The School of Business Honors Program is a school-wide program that provides highly motivated Business students with an enriched academic experience integrating curricular, co-curricular and extra-curricular development. The program provides many opportunities, both academic and professional, for students who meet the qualifications. 
Honors program participants will have the opportunity to interact closely with faculty in informal settings, visit employer sites during special honors program field trips, take an honors capstone course, and include their résumé in special honors program communications with key employers.   
3.0 cumulative Mason GPA
A- or higher on first attempt at core course for your concentration  

ACCT concentration: A- or higher in ACCT 303 
BUSA concentration: A- or higher MIS 303 
FNAN concentration: A- or higher in FNAN 303 
FPWM concentration: A- or higher FNAN 303 
MGMT concentration: A- or higher in MGMT 303 
MIS concentration: A- or higher in MIS 303 
MKTG concentration: A- or higher in MKTG 303 
OSCM concentration: A- or higher in OSCM 303 

No honor code violations 
Each semester, students who meet the admissions requirements are emailed. Only students who receive this email are eligible to apply.  
If you choose to apply, you'll need to complete two recommendation forms from faculty within the School of Business and craft a personal statement. The invitation email, recommendation forms, and personal statement should be submitted together at the same time to bushonor@gmu.edu.  
These requirements must be completed by the end of the semester you plan to graduate: 
Maintain 3.0 cumulative Mason GPA 
3.5 GPA within the concentration or be in the 95th percentile of GPA's within the concentration 
B- or higher on first attempt in every concentration course 
Participate in two honors events as directed by the Faculty Coordinator 
Successfully complete one of the following: 

Honors section of BUS 498 
A concentration honors course 
Honors project with faculty approval (separate from work in other courses) 
Additional Honors Opportunities 
The Honors College at Mason provides students with an integrated curriculum of interdisciplinary courses. Although the program is housed in the Honors College, when completed, it satisfies general education requirements for all undergraduate colleges, schools, and programs at Mason. 
Students as Scholars Program (OSCAR)
Students as Scholars (OSCAR) is a program that supports undergraduate success by encouraging a culture of scholastic inquiry through student research and creative activities