An inclusive entrepreneurship training and support resource for community members
The SOAR Initiative provides a holistic model for startups and empowers individuals who do not currently have adequate access to entrepreneurship training opportunities.
Organized by the Center for Innovation and Entrepreneurship at the Costello College of Business at George Mason University, the SOAR Initiative represents: 
The SOAR Initiative includes programs designed for aspiring entrepreneurs who are:
Refugees and Immigrants: this program focuses its support on aspiring entrepreneurs from refugee and immigrant backgrounds and provides insights on how to start a small business locally. The program also gives participants access to the entrepreneurial ecosystem and network within the Mason community. 
Currently in a Low Socio-Economic Status: this program engages with participants to help evolve their skillsets from an employee approach to an entrepreneurial approach to establish their own business. 
Living within Rural and Emerging Communities: this program works with community anchor institutions to develop a training program that assists local small business owners in becoming competitive assets within their community's emerging entrepreneurial ecosystem. 
The RISE Program
The Shrivastava Family Refugee and Immigrant Success through Entrepreneurship (RISE) program is focused on training, mentoring, and providing access to networking opportunities for aspiring entrepreneurs from refugee and immigrant backgrounds. This program is made possible through the generous support of Sumeet Shrivastava (MBA '94), and in partnership with Lutheran Social Services National Capital Area (LSSNCA) Resource Center. 
The program aims to facilitate the transformation of individuals, families, and local economies to enable them to move from a survival- focused lifestyle to thriving at all levels. Individuals wishing to participate in the program must be referred by LSSNCA. Download our flyer to learn more.
Learn more about RISE program instructor Crystal Fickers.
The RISE program is also seeking volunteer mentors. Learn how to participate here, or contact soar@gmu.edu.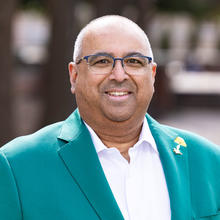 RISE Program Strategic Partners and Collaborators