Enhance any major with a marketing minor. 
The marketing minor offers a range of classes that can enhance your major coursework in any academic discipline.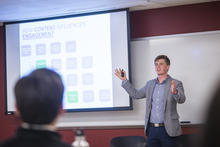 Gain a solid foundation in marketing, from understanding the needs of the customer to the principles of marketing management. You'll study topics like understanding new product development, creating marketing communications and promotions, managing customer relationships, and analyzing consumer and market trends. In the required courses, you'll learn fundamental marketing principles. You can use your electives to choose from a variety of specialized topics so you can tailor your focus to match your career goals. 
Eligibility and Requirements 
Available to business and non-business majors. 
The minor requires the successful completion of 15 credits (5 courses) with a grade of C or higher. Up to two classes can be used for dual credit (major and minor). Students must meet required prerequisites for each course. 
Requires sophomore standing (30 earned credits) to begin minor courses. 
How to Declare a Minor 
1. Download the Undergraduate Declaration of Minor Form
2. Meet with an Academic Advisor
Schedule a meeting with one of our academic advisors to review requirements and prerequisites. Bring your minor declaration form to the meeting to obtain the required advisor signature
3. Submit Your Completed Form to the Office of the Registrar
See this guide to ensure the correct routing and facilitate faster processing.
Office of Student Success and Academic Services
Enterprise Hall, Room 008 (Lower Level)
703-993-1880