Take your business education further with a minor in business analytics. 
Develop the cutting-edge knowledge and skills you'll need to use and gather data to identify, understand, and deliver insights that internal and external clients find vital to organizational success.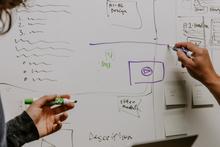 Business analytics—which encompasses a variety of techniques to extract useful information from different sources of data—is being embraced at an increasing rate by organizations that need to gain actionable and forward-looking insight from their data. Successful enterprises are those that make effective use of data: to make better predictions, better decisions, and form better strategies.  
Eligibility and Requirements  
The minor requires the successful completion of 15 credits (5 courses) with a grade of C or higher.  
Up to two classes can be used for dual credit (major and minor) 
How to Declare a Minor
1. Download the Undergraduate Declaration of Minor Form
2. Meet with an Academic Advisor
Schedule a meeting with one of our academic advisors to review requirements and prerequisites. Bring your minor declaration form to the meeting to obtain the required advisor signature.
3. Submit Your Completed Form to the Office of the Registrar
See this guide to ensure the correct routing and facilitate faster processing. 
Office of Student Success and Academic Services
Enterprise Hall, Room 008 (Lower Level)
703-993-1880