Welcome to George Mason University's Costello College of Business! 
New Student Orientation is the first step for all incoming undergraduate students.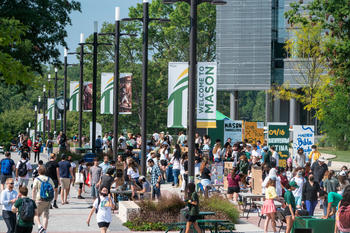 Mason's campus-wide orientation will connect you to your George Mason University family and provide you with important information about all the exciting opportunities available within your new community. All students new to Mason—whether freshman, international, or transfer—are required to attend orientation. After you're accepted, make sure to register for orientation here. If you have any questions about the Costello College of Business orientation requirements please email sborient@gmu.edu.   
Learn more about orientation requirements: 
What to Expect at Orientation
At your Mason Orientation, you will be advised by academic advisors from the Costello College of Business. You will also be introduced to information regarding the Mason Business Degree and important polices and procedures within the College of Business.
Before Orientation
Learn more about the math placement test, which is required for all business students who have not come in with the equivalent to MATH 108, 113, or 114.     
Virginia law requires that all graduate and undergraduate students submit immunization documentation. A hold will be placed on your account and a late fee assessed if you do not submit your complete immunization records by the posted deadline.
During Your Advising Session
Your advisor will discuss the following resources:  
After Orientation
Save these resources for reference: