Jump-start your job search.
The Office of Career Services at the Costello College of Business hosts a variety of events to give you learning and networking opportunities. 
ProfessionalQuest Events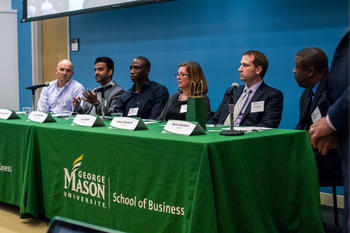 ProfessionalQuest is an exciting event series for Costello College of Business students where you'll be given the opportunity to interact with employers across several industries and build your professional network. Talk in an intimate setting with industry professionals about their field of interest, get information about employers from around the region, hone your networking skills, and experience panel discussions where employers share their insights about their respective industries. 
We hope you can attend in the future to be able to network with the employers and get all your questions answered! 
Watch ProfessionalQuest 2021-2022 events on-demand. 
Professional Headshots
Every semester, the Costello College of Business Office of Career Services offers free professional headshots. Come to Enterprise Hall 043 in your best business professional dress for a free professional headshot that you can use for LinkedIn, job applications, and more. Dates and times for each event vary; refer to our calendar for upcoming event dates. 
Resume Workshops
In these interactive and informative sessions, our expert career advisors will guide you through the art of crafting a winning resume. You'll learn valuable strategies and techniques to highlight your skills, experiences, and achievements effectively.