In This Story
People Mentioned in This Story
Body
Fifteen senior leaders from Navy Mutual Aid Association spent three days with George Mason University Executive Development to hone their data analytics skills in a customized "Data Analytics Strategic Leadership Program" with School of Business Professor Tarun Kushwaha.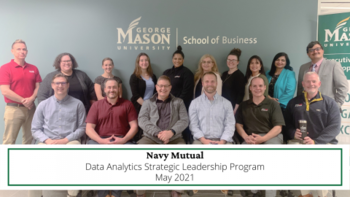 The curriculum developed for Navy Mutual was customized to provide insights on the tools available and application of business analytics to establish strategic and daily decisions vital to strengthening organizational success and customer satisfaction. Built for cross-functional leadership, the experience develops leaders to drive a data-driven culture to streamline processes and improve customer service for those who serve or have served our nation. Kushwaha, a professor of marketing, delivered the executive development experience through lectures, discussions, and interactive exercises to optimize the learning outcomes.
"Navy Mutual is one of the most respected names in the insurance industry and has an enviable 98% customer retention rate," said Kushwaha. "They take pride in serving those who have served the country in uniform. They have a vibrant top management team that is using data and analytics to further improve on their customer experiences. Inquisitive leadership aided by advances in analytical techniques will help them reach the right audience, with the right product, at the right price, and the right time." Kushwaha has taught extensively in executive education, serving a variety of industries including other multinational insurance companies.
"We are grateful to George Mason University and Professor Kushwaha for providing us with a robust data analytics course for our leadership team." said retired Rear Admiral Brian Luther, USN, President, and CEO of Navy Mutual. "The curriculum customization was impressive and the insights we gained from the course will aid us in our enduring mission of service to our members and the military community."
Navy Mutual is a nonprofit, member-owned mutual association established in 1879 to provide affordable life insurance to members of the military and their families. As the nation's oldest federally recognized Veterans Service Organization, its mission and commitment to protect those who defend us remains unwavering. Financially strong, Navy Mutual is proud to be a first-choice provider of life insurance to service members and their loved ones. Through quality life insurance products, no-cost educational and veteran services programs, and unparalleled service, Navy Mutual has earned the loyalty and support of its membership and outstanding customer satisfaction and retention ratings.
Housed in the School of Business, Mason Executive Development delivers innovative and cutting-edge educational and development solutions that address organizational and professional challenges. Executive Development serves as a single point of contact for organizations and individuals seeking to leverage the comprehensive thought leadership and scholarly acumen of Virginia's largest research university. Mason Executive Development draws on the thought leadership and expertise of world-renowned faculty from across George Mason University's ten major colleges and schools to deliver custom training, education, and learning opportunities.
Topics