In This Story
People Mentioned in This Story
Body
For Brad Greenwood, it's all about the students. His demonstrated contributions to teaching (in addition to research and leadership/engagement) puts him among the "best of the best" says Dean Maury Peiperl, honoring Greenwood with a 2021 School of Business Dean's Scholar Award. One of four faculty to receive the award, Greenwood is an associate professor of information systems and operations management at George Mason University School of Business.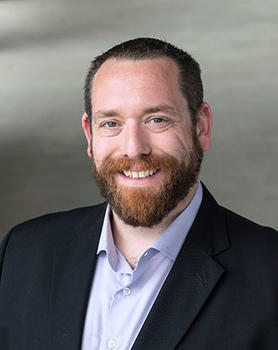 Other faculty recipients include, Jessica Hoppner, associate professor of marketing, Shun Ye, associate professor of information systems and operations management, and Heather Vough, associate professor of management.
"Aside from extraordinary research productivity, Greenwood's ability to have an impact on a much broader audience beyond the confines of academia is what separates him from most others at the school and business scholars in general," says Pallab Sanyal, area chair of information systems and operations management. "I'm thrilled that his contributions are being recognized through this award."
Greenwood's research examines the intended and unintended consequence of innovation. Specifically, he is interested in how access to the resulting information affects welfare at the interface between business, technology, and social issues; notably in the contexts of health care and entrepreneurship. His research findings are quoted extensively in a wide range of publications and media outlets.
Since joining Mason in 2019, his teaching has been devoted to executive education, advanced analytics, and the undergraduate core. Greenwood's love for teaching and students is evident in all he does. When asked about his favorite aspect of the School of Business, his immediate response was, "How can it not be the STUDENTS!" Not only does Greenwood enjoy teaching and working with students, but collaborations are also important to him. "Although all of my papers are special in their own ways, papers written with doctoral students and junior co-authors are the best," says Greenwood. "It's great to see someone get their first hit."
Greenwood has published more than 22 peer-reviewed articles, 14 of them recognized in premier journals. He is the associate editor at Management Science and MIS Quarterly. He has received numerous research papers awards, and was recently selected as a finalist for the prestigious National Institute for Health Care Management Health Care Research Award. During his tenure at Mason, he has contributed to curriculum development efforts in the area of business analytics, introduced instruction on the use of advanced analytic tools in his course work, and has been active in recruiting new information systems and operations management faculty to the School of Business.
Greenwood also founded the Washington Area IT Symposium (WAITS) to promote collaboration among academic researchers in the region and currently still runs it. He received his PhD in decision, operations and information technology from the University of Maryland and is currently a student at Mason's Antonin Scalia Law School.