Body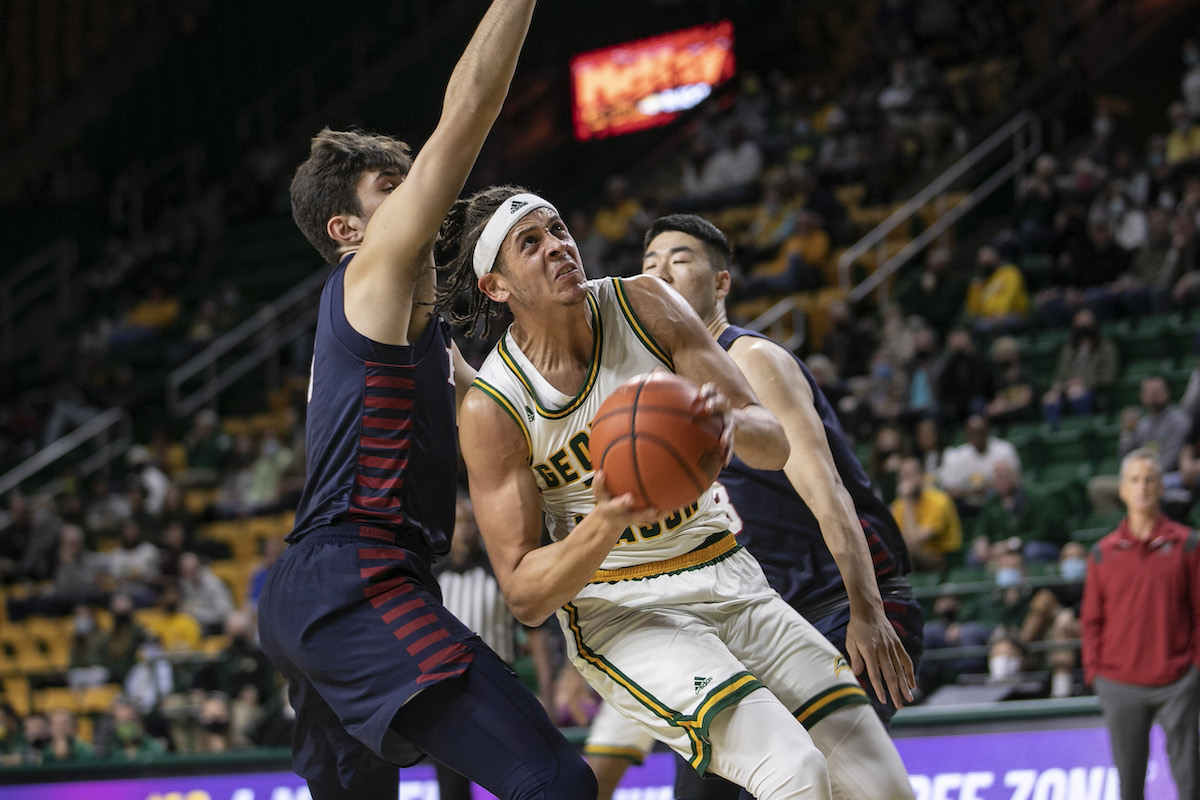 Josh Oduro isn't much for statistics.
But for the record, the star forward on George Mason University's men's basketball team finished the regular season as the Atlantic 10 conference's top scorer (18 points per game), and tied for seventh in rebounding (7.4 per game) and blocked shots (1.7 per game).
All of which makes him a strong candidate for conference player of the year.
Asked about the numbers, Oduro, a 6-foot-9 junior forward, shrugged them off.
"I don't really care about stats. Stats are whatever," he said. "At the end of the day, it's really just trying to get wins. That's my whole motivation—team success."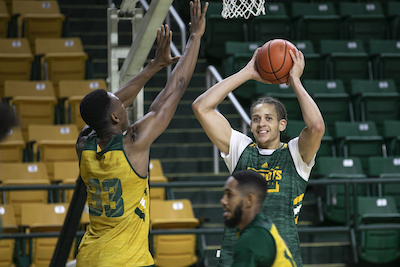 Mason (14-15) has a chance to create that success at the Atlantic 10 tournament that begins Wednesday at Capital One Arena in Washington, D.C.
The ninth-seeded Patriots—who received a first-round bye and whose season includes a victory over then-No. 20 Maryland—face eighth-seeded Fordham (15-15) at noon on Thursday.
"I feel we can play against anybody," Oduro said.
Oduro admitted he had some "baby fat" on him when he came out of Paul VI Catholic High School in Chantilly, Virginia. And he chuckled as he remembered a coach who he said once told him that he was a high-level player, "but I just had to wait for my body to catch up to my skillset."
So before his sophomore season at Mason, Oduro cut carbs and sugars out of his diet, lost 20 pounds and then added 15 pounds of muscle.
The results: a nice shooting touch (53% from the field, eighth-best in the conference), and greater assertiveness on the boards and as a team leader.
"His work ethic, his toughness, his will to show up and get better every day," Coach Kim English said, describing what makes Oduro effective. "And he's incredibly talented. I say all the time, he's only scratching the surface."
Oduro said working with English, a former NBA player, helped him to hone his game. But he also applied lessons of hard work and responsibility from his mother, Kris, and father, Kofi, who ran track and played soccer in his native Ghana.
"They've always taught me there is no substitute for hard work," Oduro said. "I feel that kind of discipline has been a catalyst for what I'm doing now and being able to move forward and become a more developed player."
The hard work doesn't stop on the court. Oduro is majoring in business with a concentration in management.
Though Oduro's goal is to play basketball professionally, "I want to have that good degree to fall back on," he said.
Besides, he said, "I feel that business and sports go hand-in-hand because there's a lot of teamwork and you have to be able to work with different kinds of people to achieve one overall goal."
"He works hard to prepare himself for life after basketball," said Michael Ouellette, academic coordinator for Mason Athletics. "He's committed to his education and values the opportunity he has to receive a Mason degree. Josh is another example of Mason student-athletes striving both on the field and in the classroom."
For this week, though, Oduro's focus is on the court.
"I think we're going to surprise a lot of people," he said of the Atlantic 10 tournament that provides the winner with a spot in the NCAA tournament. "I'm excited just to do that."