Body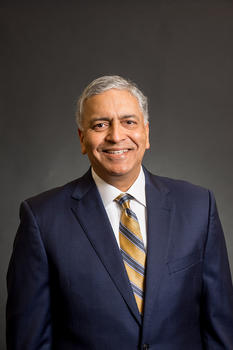 Ajay Vinzé, professor and former dean of the Trulaske College of Business at the University of Missouri, has been named the next dean of the George Mason University School of Business. He will assume his role on July 1, 2022.
As dean, Vinzé helped secure more than $30 million in philanthropic funding for the Trulaske College of Business, which enrolls more than 4,200 undergraduate students and 379 graduate students. Under his leadership, the college entered the eLearning space and offered microcredentials and certificates, and increased student experiential learning opportunities.  
"A trifecta of forces—technology, globalization and changing expectations for higher education (post pandemic)—make these interesting and exciting times," Vinzé said. "The Business School at Mason with its outstanding faculty, dedicated staff and a wonderfully diverse student body is uniquely positioned to take on these challenges. By leveraging public-private-academic partnerships, we will alter the trajectory of business education and lead the way."
Prior to his work at Mizzou, Vinzé spent 18 years at Arizona State, where he served in many leadership roles, including as associate dean for international programs, associate vice provost for graduate education, director of the Executive MBA Program and the Management Information Doctoral Program, as well as the founding director of the Technology Research Center, and the Earl and Gladys Davis Distinguished Professor of Business in the Department of Information Systems at the W. P. Carey School of Business.
In May 2016, based on a model he developed, MasterCard Foundation awarded ASU a $21.9 million, six-year inter-disciplinary grant focused on promoting tertiary education in sub-Saharan Africa.
Vinzé completed his doctoral degree at the University of Arizona after receiving a master's degree from the University of Connecticut and bachelor's degree from the University of Delhi. Before joining the faculty at Arizona State, he was an assistant and associate professor at the Mays Business School at Texas A & M University.
Vinzé's research is recognized for technology innovation and organizational relevance, including data analytics, emergency preparedness and response, disruptive innovation, economic value of ICT investments, and collaborative computing. His research typically leverages a collaboration with public-sector and private organizations.
"Dr. Vinzé is a respected leader, an accomplished scholar and a highly respected citizen of the universities in which he has served. He has built successful academic programs while also working in close alliance with the business communities in Missouri, Arizona and Texas, where he developed deep collaborative relationships with industry and organizational leaders. We are excited that he is joining with us and look forward to welcoming him and his family to the Mason community," Provost Mark Ginsberg said. 
"It is an honor and privilege for me to serve as the business school dean at this unique juncture," Vinzé said. "I am looking forward to joining the George Mason family with great enthusiasm and excitement as the University celebrates its 50th anniversary and prepares for the next 50."