Body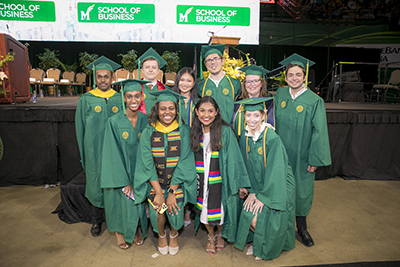 This academic year the George Mason University School of Business graduated a total of 1,337 students—1,106 undergraduates, and 231 graduate students. Faculty and staff congratulated 2022 graduates in a video posted on the School's website.
During his remarks at the School's Degree Celebration on Sunday, May 22, Dean Maury Peiperl commended students for their determination to succeed in this very challenging time. "Life is often difficult, and the past two years in particular have been record-setting in their heaviness, and in the many setbacks they have dealt us, as individuals, as families, as a region and a nation, and, indeed, as a world," said Peiperl. "Mason Business graduates look for opportunity and contribution. They learn how to build new connections, across disciplines, markets, fields of knowledge, countries and cultures. By bridging and integrating across diverse sets of stakeholders, they create wider opportunities for value creation, for contribution, for partnership and for impact."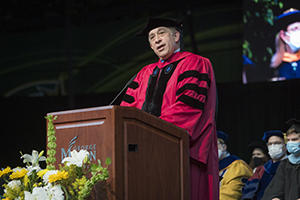 "Given the amount of change we have recently been through, there is so much opportunity, especially now," said Peiperl. "So go for it. Think big. Make something new and better happen."
Featured speakers at the degree celebration included graduating undergraduate student Willow Dysard, and President of the School of Business Alumni Chapter Scott Hine'85.
Dysard, graduating with a bachelor of science in marketing and a minor in entrepreneurship was recently admitted into the School of Business Marketing Honors Program. During her time at Mason, she was a member of the Business Living and Learning Community, and the Mason DECA Chapter. Outside of the classroom, she served as chapter president for Best Buddies, an organization dedicated to the inclusion of people with intellectual, developmental, and physical disabilities, connecting undergraduate students in one-on-one friendships with students from the Mason LIFE program.
"Attending the School of Business allowed me to thrive in ways that I didn't know were possible when I first walked through the doors of Enterprise Hall," said Dysard. "From the supportive community and infinite opportunities to succeed, I could not be more grateful. Each staff member, from Dean Peiperl to the office administrators, have supported my journey and showed genuine dedication to my success."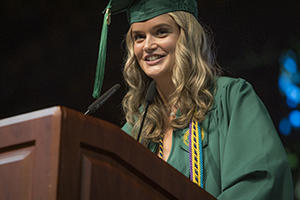 "Throughout my four years, I never once doubted that Mason and the School of Business was where I belong, and now I am so proud of all that this class has achieved," said Dysard. Dysard also held four marketing internships while at Mason, and plans to continue her career as a junior consultant at Booz Allen Hamilton.
School of Business Alumni Chapter President Scott Hine'85 welcomed the new graduates into the Alumni Association. "Your journey as a Mason Patriot is only beginning," said Hine. "The School and the University are now entering a new era. And we do so with a clear understanding of what it means to be a Patriot. Our newest graduates and our oldest graduates alike are dreamers who take the initiative to solve the world's biggest problems. From problems affecting our planet, people, and economies, our graduates know that it's their time."
"With our diverse student and alumni bodies, we reflect the direction our nation is trending," said Hine. "It isn't just diversity in our racial, ethnic, and religious backgrounds, but diversity in how we think and in the solutions we discover."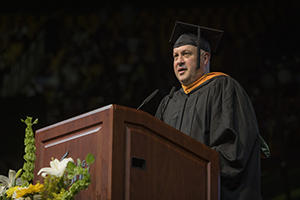 During the ceremony, Dean Peiperl also recognized students and faculty who were recipients of the Outstanding Student and Faculty Awards. Graduating graduate students were recognized by faculty for having demonstrated overall excellence in academic performance. Recipients included William Black (master of science in accounting), Francis Carrow (Federation of Schools of Accountancy), Douglas Chapman (MBA), Jordan Doyle (Master of Science in Finance), George Isaac (MBA), James Neumeister (master of science in technology management), Hannah Picardi (master of science in real estate development), Rishi Vajpeyi (master of science in technology management), Liliana Cardoso Varela (master of science in management), and Richard Williams (MBA).
Graduating seniors were also nominated by faculty and selected for outstanding scholastic achievement, maturity, and excellence in pursuit of their academic and professional career. Recipients included Momina Amir (management information systems), Elan N. Guzman (finance), Natasha Kaka (information systems and operations management), Neha Fatima Kazmi (management), Austin P. Mandrgoc (accounting), Giovanni Rodriguez (marketing), Hyeonjeong Song (business analytics), Andrew W. Soria-Quiroz (operations and supply chain management), and Oanh N. Tran (financial planning and wealth management). Peiperl also acknowledged students who were selected for Excellence in Business. This category recognizes those undergraduate students with a grade point average in the top 10 percent of their class by major or concentration. Students receiving this honor were listed in the Degree Celebration program.
Peiperl also acknowledged this year's faculty members who were designated as Outstanding Professor in their area. Faculty included Belal Abdelfattah (information systems and operations management), Matt Cronin (management), Gretchen Hendricks (business foundations), Young Hoon Kim (accounting), Steve Pilloff (Finance), and Gautham Vadakkepatt (marketing).
Prior to the School of Business Degree Celebration, George Mason University celebrated its 55th University Commencement ceremony, recognizing more than 10,000 graduates on Friday, May 20. The celebration honored degree and certificate earners from 89 countries, 47 states, the District of Columbia, Puerto Rico, the U.S. Virgin Islands, and foreign military installations. Of the projected 6,392 bachelor's degree earners, 27 percent reported they were first-generation college graduates.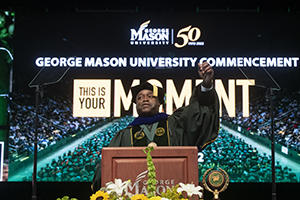 "Graduates, your journey has been like no other," said Mason President Gregory Washington. "You could not have anticipated the challenges that would arise during your time here. None of us could…However, you leave here—scars and all—more prepared than any class before you to tackle and solve the challenges [we face]. Everything that has been thrown at you, you've just kept going. And I am proud to have you all be graduates today."
"You earned a degree from a university whose campus looks like what America will soon look like." Washington said. "That is a campus with no clear ethnic majority. You're accustomed to working and collaborating across cultures and diversity of origin, identity, circumstance, and, yes, thought."
School of Business alumnus, Sumeet Shrivastava, EMBA '94, welcomed the George Mason University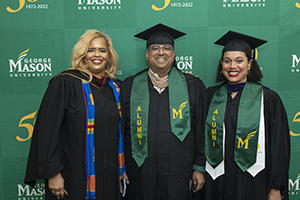 Class of 2022 into the organization as the George Mason University Alumni Association president, reminding them that they are now part of an alumni base of more than 220,000.
"As you think about that number, I want you to think about the fact that you've reached where you are today with [help from] family and friends and professors and counselors and others. But now, you get this new family," said Shrivastava. "You get this family that has walked in your steps. That means no matter where you go now, or what industry you join, there's probably an alum. It means no matter where you settle, there's a location with an alum nearby that you can count on."
The student speaker for the University Commencement was School of Business graduating senior, Bhagya Nair, a first generation American college student. Nair, graduating with a bachelor of science in information systems and operations management (one of the top five undergraduate majors at the university) and minors in business analytics and health information technology, was an active member of the Information Systems and Operations Management Honor Society and Information Systems and Operations Management Association while at Mason.
"We experienced a pandemic, a war, a change of presidencies, a supply chain disruption, skyrocketing prices, and a ton of all-nighters. And amidst all the chaos…we stayed true to our goals," said Nair. "No matter where we came from or the obstacles we faced, our journey and the decisions we made, have brought us here today to celebrate our successes."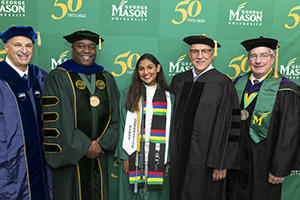 "I encourage you to take those life lessons and memories with you to your future destination, wherever that may be. And I advise you to always remember the journey when you reach your destination, and to not be regretful, but grateful for the way you arrived," said Nair. "What is important to remember is that your journey is the souvenir you keep for your accomplishments. Make it a memorable one."
View pictures from the School of Business Degree Celebration
Watch the recorded live stream of the School of Business Degree Celebration
Learn more about the 55th University Commencement ceremony in the article, Mason celebrates more than 10,000 graduates in the Class of 2022, posted on the Mason website.
Topics