Body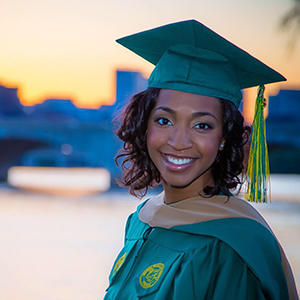 With her client expertise, people skills, and work ethic, Andrias White Murdaugh, MBA '15, has risen quickly through the leadership ranks. While many young professionals must undergo extensive on the job learning, she believes that the education she received at Mason, at the undergraduate and graduate level, prepared her to be an immediate and impactful leader in the industry. In addition to caring faculty members and the professional network she developed, what made Murdaugh's MBA experience even more special was that it was where she met her husband David W. Murdaugh III, MBA '15.
Today, Andrias Murdaugh is the vice president of strategic events at the Congressional Black Caucus Foundation, Inc. (CBCF). She had been working at the Walter E. Washington Convention Center, becoming an expert on the needs of her clients, including CBCF, as she handled all logistics on their events. Then as a consultant of her own independent firm, Andrias Events, LLC, she continued her work with CBCF, gaining an even better understanding of how they operated. With the COVID-19 pandemic drastically altering how events were hosted, CBCF had to make an overhaul, including their signature Annual Legislative Conference (ALC).
There was one person who was capable and prepared for the complex transition to a virtual experience. Leaning on her experience in virtual events and broadcast media as the guest manager and guest co-host of Central Virginia's only lifestyle talk and entertainment television show "Virginia This Morning" on WTVR CBS 6, Murdaugh embraced the challenge. The 2020 virtual conference became the first of a string of successes. In preparing for the 50th annual ALC and the second to be hosted as a virtual conference in 2021, she also transitioned CBCF's National Town Hall to a televised program and led the production of the televised Phoenix Awards, which included performances from stages across the United States. "I brought in fresh ideas, drawing upon all of my experiences, and I assembled a production team that produced this star-studded new show," she says.
Completing her undergraduate degree in 2012, a BS in tourism and events management, Murdaugh held a number of on-campus jobs, working at the Mason Inn, Office of Student Involvement, Office of University Information, and Office of Admissions just to name a few. She also served as a student representative to the university's Board of Visitors in 2011-2012. After being hired as the full-time event manager for the Office of Admissions, she decided to take advantage of Mason's tuition benefit for employees and attended more classes and zeroed in on earning an MBA.
A highlight of her MBA experience was the two-week global residency in Brazil, where she got to know her classmate and future husband. "David and I were members of the same cohort but always sat in different parts of the classroom. In Brazil, the learning adventures were the 'classroom' so we actually got to connect while we explored," she says. "By the time we got to graduation, we were very interested in one another and somehow our families, who had never met, ended up sitting in the same rows at the Patriot Center [now the EagleBank Arena]. I guess it was a sign!" The Murdaughs married in 2017 and are now the proud parents of David W. Murdaugh, IV.
Not someone to limit herself, Murdaugh has remained active at Mason teaching courses in hospitality, tourism, and events management—always eager to share her experiences with students.  Recalling the passion that she had as a student, Murdaugh finds that she often gets as much out of teaching as her pupils. "The exposure to opportunities is reciprocal—learning about new technologies and different perspectives—I find myself being molded by the students that I teach," she says.
From her marriage to her career, Mason has had an incalculable impact on Murdaugh's life. "During my undergraduate and graduate studies, I was able to work jobs that I loved and succeed doing them because I was so well prepared by the classroom knowledge, hands-on experience, and mentorship I received on campus."
It's one thing to have resources available, but another to be able to capitalize. Andrias White Murdaugh's meteoric rise in the events industry makes her a leader to watch for quite some time to come.
Topics