Body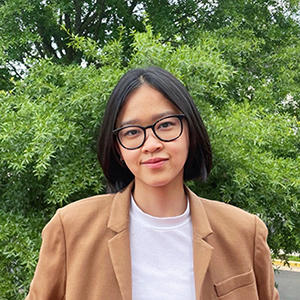 As Ngoc Le was wrapping up her sophomore year at the George Mason University School of Business, she was surprised to learn that she had been nominated for the Public Company Accounting Oversight Board (PCAOB) scholarship. After a demanding application process, her hard work was rewarded as she was named a PCAOB scholar. Originally undeclared, Le chose to major in accounting after learning about how central it was to everything in business. "I wanted to explore what the School of Business had to offer before declaring," she says. Peggy Tsirigotis and Kevin Matthews, both instructors of accounting, were two impactful professors she had in accounting and they pushed her to be a problem solver. It was during their courses that Le realized her passion and calling.
After receiving the PCAOB nomination, Tsirigotis guided her as a mentor throughout the application process. "The nomination and selection process took about two months and was rigorous as she competed against outstanding accounting students not only at Mason but also across the country," says Tsirigotis. "As her former instructor, I am honored to have guided and supported her during the process." The pair worked together in writing a profile and filling out copious forms. "Professor T was so helpful and we communicated frequently to ensure everything was proficiently completed," says Le.
While working toward a future as an auditor, in the near-term Ngoc Le is looking forward to the rest of her time as a student at Mason. Now a junior, she spent her freshman year doing everything online. "This past year, I was really excited because I got to be on campus and attend all of my classes and club meetings in person," she says. "I had only visited campus once back in high school, so it's really been nice walking around to classes and events this past year."
Clearly, the disappointment of the pandemic did not hinder Le's academic achievement and a superb sophomore year was further enriched by the PCAOB recognition. Her full plate of extracurriculars include the Accounting Society, Vietnamese Society, and the Environment Club. She hopes to secure an internship soon and already has her eye on Mason's master's in accounting program. In addition to the financial benefit, the PCAOB scholarship carries incredible prestige, giving Le the confidence that the work she's been putting in has been paying off.
"Nominating Ngoc for the PCAOB scholarship was an easy decision considering her high academic achievement, enthusiasm for accounting, and her well-rounded student profile," says Tsirigotis. Halfway through her undergraduate classes, Ngoc Le has taken advantage of every opportunity and done so in impressive fashion. The School of Business is honored to be represented by her as a PCAOB scholar.
Topics