In This Story
People Mentioned in This Story
Body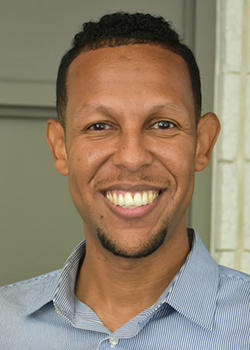 Cameron Harris, BA Integrative Studies '06, associate professor of business foundations in the School of Business, was recently awarded the George Mason University Presidential Award for Faculty Excellence in Diversity & Inclusion. Sponsored by the Office of the President, the Presidential Awards for Faculty Excellence were created to recognize, promote, and honor outstanding members of the George Mason University community for excellence in teaching, research, social impact, and diversity & inclusion. The Faculty Excellence Award in Diversity & Inclusion recognizes activities that directly advance diversity and inclusion within and outside of the Mason community.
"It is quite an honor to be recognized for the Presidential Award, but also to serve in the various places around the university and in spaces related to DEI," says Harris.
In addition to receiving the Presidential Award, Harris was also one of only two faculty members at Mason appointed to the George Mason University, Stearns Center for Teaching and Learning Anti-Racist and Inclusive Excellence Task Force (ARIE) as a Faculty Fellow. ARIE Fellows are tasked with implementing more successful inclusive and equitable teaching strategies through resources to support faculty with course design, assessment, and student engagement, as well as designing and leading workshops to support Mason faculty in anti-racist and inclusive teaching.
"I have been working in faculty development spaces for a few years and have done some work with the Stearns Center in the past," says Harris. "This position will allow me to dedicate energy and effort to the development of anti-racist pedagogical and curricular change for faculty across the university."
Since joining the Mason faculty in 2015, Harris has built a long list of accomplishments to support diversity in the Mason community. Harris recently co-led a year-long effort to incorporate issues relating to Diversity, Equity and Inclusion (DEI) into the school's faculty hiring process. He is the faculty advisor to the Black Student Alliance, and was recognized as Student Organization Advisor of the Year by University Life's Student Involvement Office. Harris participated in the Diversity and Inclusion Summit and the Anti-Racism Teaching Excellence committee. Harris is a member of the social justice and advocacy working group of the Mason Chooses Kindness initiative and has also served for three years on the leadership team of the Collaborative on Academic Careers in Higher Education (COACHE) project.
Harris has served as a co-faculty advisor to the School of Business Living Learning Community since 2016, and has facilitated multiple opportunities for students to network. In 2019, Harris was elected as vice president of Mason's Black Alumni Chapter (BAC), where he served the Mason community through program development and engagement, and recognized alumni through the first ever BAC Mason 40 under 40 initiative. Harris was nominated for the Pillar Award for Outstanding Faculty/Staff at the 2019 Black Excellence Gala. He has served as co-chair on the Diversity Committee for the Professional and Organizational Development Network in Higher Education (POD), and as chair of the Stanley Award for  Diversity and Inclusion Research in Educational Research Committee. This award is dedicated to the development and recognition of faculty who have demonstrated an unequivocal commitment to advancing research on diversity and inclusion issues in teaching and learning.
"Cameron is an asset to our institution and a valued and respected member of the faculty in the School of Business," says Jacquelyn Brown, area chair of business foundations at George Mason University School of Business. "He has consistently proven an integral part of our team and shown a willingness to engage and support the needs of our students, area, and school. I have seen his dedication to our students and his genuine enthusiasm for teaching, curriculum design, innovation, and service firsthand, as well as his natural and at times pointed inclusive approach toward each one."