In This Story
People Mentioned in This Story
Body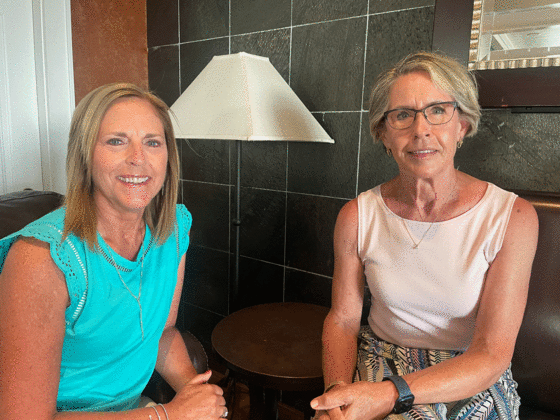 With the daytime dedicated to her nine-to-five job and evenings occupied with coursework, the financial support that Kaylene Green, BS Accounting & Legal Studies '87, received from her employer was integral to her success. Now the president and CEO of Flagship Government Relations, Inc., she makes sure to return the favor, supporting the business students of her alma mater.
Having served as chair of the Dean's Council and as a founding investor in the School of Business Dean's Investment Fund, Green continues her investment in the school through the Kaylene Green Endowed Scholarship, which aids high-achieving students who, like she was, are employed while enrolled at Mason. A generous and passionate donor to the scholarship fund is Green's sister, Janet Barnard. Barnard, who has served on various boards across the university, is a retired executive officer of the region and recognizes education as a way open countless doors. "For a couple of farm girls from Nebraska, it was a big deal to have the opportunities we had which wouldn't be possible without the education," says Barnard.
Green and Barnard are grateful to pay it forward after accomplishing so much in their respective careers. And they certainly relate to the recipients. "The Kaylene Green Endowed Scholarship meant a great deal to me in that it provided me with financial assistance which allowed me to have one less thing to worry about," says Zain Jafri, BS Management Information Systems. "I was able to focus more on my studies which is all a student wants to do during their time in university." "Receiving the scholarship is a blessing and honor for me," says Eliam Kwan, a senior studying accounting. "It did not only help me paying off half of my tuition but also showed that my hard work really paid off and motivated me to work even harder to accomplish my academic goal."
Though not an alumna of Mason, Barnard was a student and has always been connected with the university in one way or another. "When I was in class at Mason, my professors were always so relatable and would chat after class about the course subject matter or anything else," says Barnard. "To this day, whenever I talk to someone from Mason, they are always down to earth and that matters to me."
Understanding the factors that contribute to academic excellence and a successful student population, Green and Barnard are excited about the future of the School of Business. "The new building that we're planning will be a real signal to the area and academic community that Mason really values the School of Business, and I know our students are going to absolutely love it," says Green. In fact, Kaylene Green sits on the Building Campaign Steering Committee, further exercising her visionary leadership at the school.
The sisters are doing their part in supporting the next generation of students and business professionals. They encourage their peers and other alumni to consider philanthropy as well. "It's an indication from us that we appreciate what we got out of our education and that we appreciate what students are going through financially to achieve a dream on their part, similar to the way it was for us," says Green. "Because we've been so blessed, we have to share those blessings and pay it forward," adds Barnard. Kaylene Green and Janet Barnard have very generously shared those blessings and continue to strengthen the culture of giving at Mason.