Body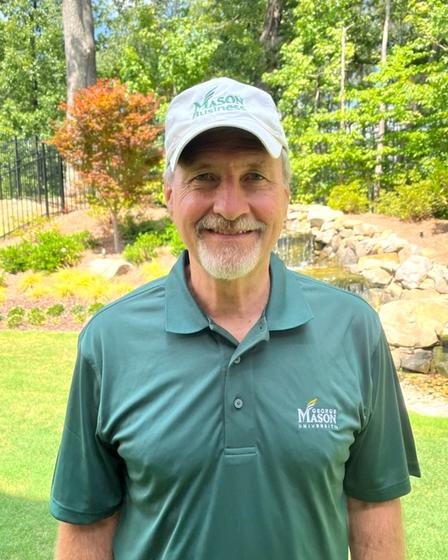 Despite living and working in the Atlanta metropolitan area, Michael VanPatten, MBA '90, never lost touch with Mason. Immediately receptive to post-graduation calls from the alumni relations team, he was eager to connect with alumni and assist students in attaining an MBA. The positive experience he had at Mason, with instructors who had working knowledge in the areas they were teaching, encouraged his continued engagement. "One of my awesome professors who really stood out was Raphael Coleman, and he was dean at the time, which made it even more special," he says.
As the chief financial officer at True Influence (now part of Anteriad), VanPatten reflects on how instructors in the MBA program went out of their way to give students a leg up. "Another professor who really helped me was Raj Sisodia who taught marketing," he says. "He shared my paper 'A Normative Conceptual Model for Marketing Technology-Centered Products' with acclaimed marketing authors, Al Ries and Jack Trout, and they shared immensely positive feedback with me." The result was an "A" in the course, but more importantly it gave him exposure and confidence in his skills at a high level. The finance portion of the program prepared VanPatten exceptionally well, and he was excited that he could build upon his background in calculus. "Tools from those finance classes have since helped me convince investors to buy into new programs," he says.
VanPatten's zeal for Mason is demonstrated by his communication with students and graduates, establishing his own scholarship, and his participation in a number of Mason alumni get-togethers in the Atlanta area. With the Michael S. VanPatten Family Endowed Scholarship recently established, he is excited to witness the effects it will have on recipients. Working with Carolina Camargo De Luca, the major gifts officer at the School of Business, he was able to lend support to the program in a personal way that fit him best, providing support to high-performing MBA students who have completed two courses in the program.
"Throughout my education I received help from many people, including employers, and I think it's really important that I give back as well," he says. Recognized as a Prominent Patriot in 2020, Michael VanPatten is a sterling example of how graduation only marks the beginning of the journey as a Patriot. Soon, MBA students will begin benefitting from his scholarship and author their own stories of success.