In This Story
People Mentioned in This Story
Body
For George Mason University Korea (Mason Korea) students, the transition from Songdo, Korea, to Fairfax, Virginia, can be challenging, but the opportunities are immense. Many students pursuing their degree at Mason Korea are looking to a future career in the United States. This makes their time in Fairfax critical.
The School of Business accounting program is one of the most popular degrees offered at Mason Korea, and faculty in Fairfax work hard to offer students support for their future career success.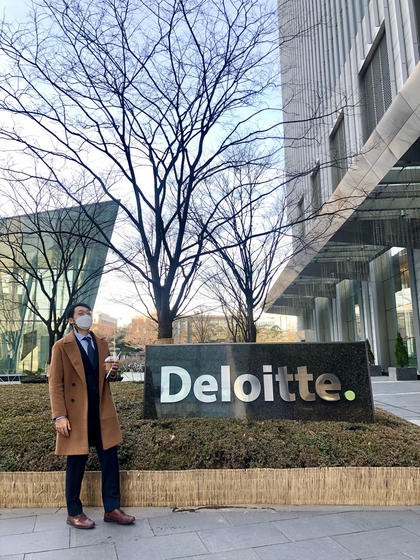 "Our accounting faculty have diverse backgrounds and areas of expertise. We always strive to help and support our students pursuing their own career paths whenever possible–whether they are from George Mason University Fairfax (Mason Fairfax) or Mason Korea," says Long Chen, area chair of accounting.
Established in 2014 as part of the Incheon Global Campus, Mason Korea offers U.S. degrees in undergraduate disciplines. The degree programs offered provide students the unique opportunity to spend three years at Mason Korea in Songdo and one year in the U.S. at Mason Fairfax, before receiving the same degree as students who spend four years in Virginia.
Accounting major and new Mason alum Ambrose (Do Hyun) Lee, who graduated from Mason Korea in December, already has a position lined up at Deloitte in McLean, Virginia. Lee says taking advantage of the many resources on the Fairfax Campus helped him increase his career opportunities.
"In my first year at Mason, the school ran a virtual event with accounting alumni from various companies in the DMV region. During a time when the pandemic hampered human interactions, the event reassured me that I made the right decision to come to the School of Business," says Lee, who recently attended a similar event in-person on the Fairfax Campus.
"The School of Business Career Center works hard to support all students, and help Mason Korea students individually," says Kerry Willigan, assistant dean of Career Services at the School of Business. "We know finding a job in the U.S. is a complicated process often because of the complex visa issues. Our team offers 1:1 resume critiques. Because of the time difference, we have our team review the resume and do a short video with the critique which is emailed back to the student." The Career Center continues to offer their Professional Quest events via zoom to accommodate Mason Korea students. In fall 2021, the school also launched a new BUS 492 Internship-for-Credit class that students can complete on either the Mason Korea or Fairfax Campus.
While at Fairfax, Lee was also involved with University Life in planning activities for Mason Korea students in Fairfax to help ease their transition. "We hosted events that would further their experiences in the U.S.," says Lee. "We invited professionals from various industries to talk about their experiences regarding U.S. employment, working in an American setting, and living in the U.S."
In addition to the Career Services and University Life events, Chen recommends accounting students join student organizations led by experienced faculty advisors. "These student organizations and social groups provide helpful information on many career-related issues such as accounting career options, career pathway, professional certification, and graduate education," says Chen. "Throughout the year, students can meet with recruiters, alumni, and faculty members at different events to learn the most updated information on the accounting profession, what makes a strong candidate, and how to better prepare for the accounting profession in this changing world." Organizations for accounting students include Beta Alpha Psi, the Accounting Society at Mason, National Association of Black Accountants (NABA), the Association of Latino Professionals for America (ALPFA), and the Accounting Honors Program.
Lee recommends that Mason Korea students get out of their comfort zones. "Being proactive and planning well in advance even before coming to the U.S. is crucial. The resources and the people are all there from the School of Business, and the employers, for the students to utilize," says Lee, who reached out to assistant professor of accounting, Young Kim, for many questions he had regarding working in the U.S.
Kim, who worked in a Big 4 public accounting firm in both Korea and the U.S., says students should consider starting their careers in public accounting firms. "I found many students taking my auditing courses tend to underestimate themselves and not dream big in the job market," says Kim. "When I was in their shoes, I also had many questions and uncertainties but didn't know how I could get some help. I believe it is my job to give back by sharing my experiences and opinions with my students. I feel genuinely rewarded when my students appreciate my help and advice."
Kim also says that it is important for students to understand the cultural differences between the U.S. and Korea. "A one-year experience at the Fairfax Campus is a wonderful opportunity for Mason Korea students to learn about culture by interacting with classmates and professors here, and participating in various networking events," says Kim. "Also, the more, and earlier they start doing research on careers in the U.S., the better decision they can make."
Finally, Lee says Mason Korea students need to differentiate themselves from American students. "Due to time constraints, Mason Korea students must prepare their differentiating factors and strategies on how to best appeal those factors to employers prior to coming to Fairfax," says Lee. "Otherwise, there is not much motivation for employers to employ Mason Korea students who require greater financial investment from the employers due to the visa sponsorship."
"The experiences I had helped me in making a decision regarding my future, and in networking with professionals whom I still keep in contact with," says Lee. "I would encourage other students to take advantage of these opportunities as well, to bring them one step closer to achieving their dreams here in the United States."