Body
For Juan Escalera, marketing and economics are very similar in that both look at human behavior. From studying economics, Escalera said he has learned the importance of value. From studying marketing, he said he learned the value of communication.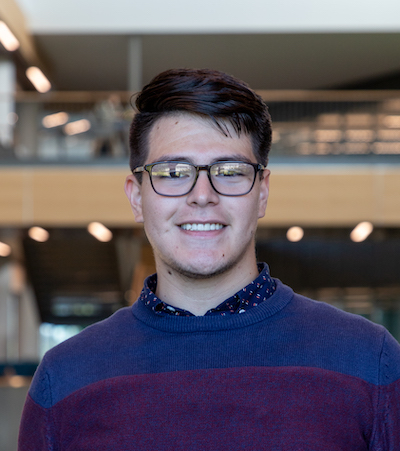 A double major and member of the Honors College, Escalera came to Mason as an alumnus of the university's Early Identification Program. That program, he said, pushed him in high school to take Advanced Placement courses that helped prepare him for a college workload. He is also a first-generation student.
"Definitely a sense of accomplishment that will probably hit once I've graduated," Escalera said. "But right now, it's just a relief that I've come this far. It makes me look forward to what other challenges will come up and what I can accomplish."
Where are you from?
I am Bolivian, but have lived in Arlington, Virginia, most of my life.
What is your best memory of Mason?
My best memory of Mason is when my Honors College Learning Community floor threw a Halloween party where we all dressed up. It was an experience that was needed after we all spent that week taking exams.
How have you grown while at Mason?
One way I have grown while at Mason is by developing and further implementing a professional mindset when decision-making. I have refined work ethics that best work for me to reach my goals for the day.
What is your best advice for incoming students?
My best advice is to explore when it comes to their education. To get an accurate understanding of our world, an individual needs to understand multiple perspectives, which our education provides.
What's next for you?
My next step is to figure out some travel plans before I really get going starting my career.
Read More Graduation Stories