Body
Paul Vosti is the first to tell you he doesn't need another degree.
He already has a BA in Japanese studies from the University of Notre Dame, and an MA in international studies from the University of Washington. But Vosti also loves learning. So when the opportunity arose, he dove in.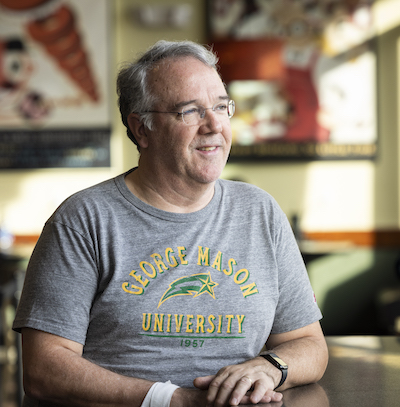 Later this month, the 65-year-old Burke, Virginia, resident will graduate from George Mason University with a master's degree in finance, part of the program's first cohort of 14 students.
"There is a sense of accomplishment," Vosti said. "But honestly, I don't even know if I'm going to turn this into a professional career opportunity as much as just the experience of the education, which I love. I love going to school."
Vosti hadn't been in a traditional civilian academic setting since 1989, when he graduated from Washington. A military career followed, including stints as the senior advisor of Guam policy and the director for Japan policy in the Office of the Secretary of Defense.
He is currently working part-time as a contracting officer's representative, administering contracts for the Office of the Undersecretary of Defense for Policy. All of which is to say, Vosti had some catching up to do when it came to current tools of education.
"When I came to the University of Notre Dame as a freshman, we all came with portable electric typewriters. That was our technology," Vosti said.
For his finance classes, all of which were online, Vosti had to learn software such as Python and RStudio, and advanced capabilities of Excel for inputting formulas.
He had to get comfortable with the functions of a financial calculator and, as he said, "get that heavy layer of rust off" in classes that included a heavy dose of calculus.
Lin Sun, an assistant professor in the finance section of Mason's School of Business, said that did not hold back her student.
"He's not afraid to push forward, and he's a role model for other students," said associate professor Jim Hsieh, the director of the master's in finance program. "I'm convinced that he convinced other students that if you put your mind to something you can achieve it."
The truth is, studying finance is a return to Vosti's youthful interests.
When Vosti began at Notre Dame, he intended to major in mathematics. When he switched majors to Japanese studies due to his strong interest in international relations, math was set aside.
"But I always had that interest, playing with numbers," Vosti said, "And I was always interested in the financial markets. So for me, this was an opportunity to go back to something I had an interest in, and it would all be new knowledge."
Vosti attended Mason in great part, he said, because the finance program was supportive, encouraging, and worked with his G.I. Bill requirements. It also allowed him to finish the program in 15 months to accommodate a long-planned vacation.
"I just liked the heck out of it," Vosti said of the program. "This was like exercising a different part of my brain. I've enjoyed the journey as much as what it might open to me."
Read More Graduation Stories