Body
With $40,000 in seed funding up for grabs, George Mason University undergraduate students and recent alumni are preparing to pitch their business ideas to a panel of local business professionals and Mason alumni on Thursday, April 13 at the School of Business Patriot Pitch Competition.
Similar to the show "Shark Tank" on ABC, entrepreneurs must sell their idea to the judges, proving their business plan and concept has the potential to be a successful venture.
"Patriot Pitch Competition is more than just an event that provides Mason entrepreneurs with seed money," says Rebecca Howick, director of operations for the School of Business Center for Innovation and Entrepreneurship (CIE). "It's an opportunity for emerging innovators to build their confidence and network, it brings together the Mason entrepreneurial ecosystem, and it's a fun way for the School of Business and CIE to celebrate Mason's passion for innovation and entrepreneurship."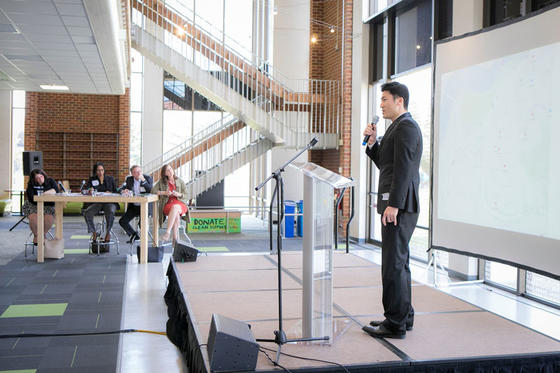 Sixteen finalists, reviewed and selected by School of Business faculty members and regional entrepreneurs, will compete.
"This year we're excited to have student and alumni teams from academic units across campus," said Howick. "I appreciate our mentors, judges, faculty, Mason's leadership teams, and community stakeholders that support this vital experiential learning opportunity."
Pitch Competition Mentors include representatives from the Mason Enterprise Center, the Small Business Development Center, several entrepreneurship faculty members, previous Patriot Pitch Competition alumni, Mason alumni, and local entrepreneurs.
The Leading Innovation Sponsor for the event is 22nd Century Technologies, Inc., one of the fastest--growing IT service integrator and workforce solution companies in the United States.
The keynote speaker for the day will be Nicole Washington, founder and CEO of Boralogix, Inc., a technology consulting firm. Washington is a senior executive with 20 years of experience in policy development and strategic planning, systems design and implementation, and programming for government and other industries. Washington is also a member of one of the largest Angel Investing Funds in the country where she has been an avid and effective due diligence team member.
Additional sponsors for the event include the College of Engineering and Computing, and the College of Science as Co-STEM Track Sponsors, the Greg and Camille Baroni Center for Government Contracting as the Public Engagement Track Sponsor, and the School of Business Management Advisory Council and the Women in Business Initiative Advisory Board as Co-General Entrepreneurship Track Sponsors.
Students and local community members are invited to attend the competition and learn more about these Mason entrepreneurs. For those interested in attending as a spectator, there is also an opportunity to be part of the action by voting for the Audience Choice Award.
The event will take place in Dewberry Hall on the Fairfax Campus from 11 a.m. to 4 p.m. Don't miss this chance to connect with local entrepreneurs and your fellow innovators on campus!
You must register for a ticket to attend as an audience member. Registration is complimentary and must be completed here by April 10.