Body
For the second consecutive year, and for the sixth time in 11 years, a team of George Mason University School of Business Master's in Real Estate Development (MRED) students took home the top prize at the Capital Challenge presented by NAIOP MD/DC (The Commercial Real Estate Development Association). 
Mason's team bested other teams of real estate students from American University, Georgetown University, Howard University, and the University of Maryland. All five teams were tasked with the same case study, a high-profile real estate development project in the region, and had to strategize and formulate a plan to maximize the property's potential. Throughout the competition, students interacted with representatives of top real estate companies, an opportunity that makes the experience alone a major victory. Students are only permitted to participate in the Challenge one time, making Mason's dominance an impressive feat, as they are not able to rely on the same students year in and year out. It truly is a testament to the program. This was the thirteenth year that the Challenge has taken place.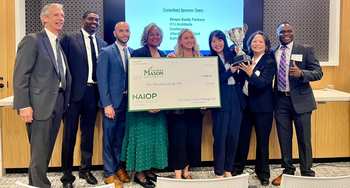 Mason's victorious team was comprised of eight MRED students–Jeff Doyon, Kobe Xiaotong Gao, Amber Moore, Jacqueline Melton, Eric Romig, Sarah Pastoriza, Malik Salifu, and Damien Thomas. Dubbed Mason Square Advisors, the team was given seven weeks to analyze the site and come up with a solution. They then had to present their report to a panel of industry expert judges followed by questions from the panel. 
Mark Hassinger is a partner in Hassinger/Armm Associates, and also teaches real estate development at Mason. He has been the faculty advisor for all 11 years that Mason has participated in the Challenge. Hassinger says that each year he has thoroughly enjoyed exposing the teams of students to "real world" real estate opportunities with "tight timeframes" and help them come up with credible solutions. He oversaw Mason Square Advisors' prize-winning solution which included an in-depth analysis of the market conditions for high rise rental apartments, condos, retail, hotel, office, and senior housing. He said this team exceeded expectations in how they managed their volunteer consultants (especially an architect from OTJ Architects); did in depth research regarding zoning, construction, placemaking and finance; and made a very comprehensive and professional presentation to the judges. That process is very similar to what a developer would go through when bringing a project to a finance committee. Akridge, a Washington, D.C.-based development company, served as the sponsor of the site. 
The Master's in Real Estate Development program at George Mason University was designed with the input of leading real estate development professionals to provide students with a robust network as well as entrepreneurial and leadership skills necessary to develop vibrant and livable communities. Participation in the NAIOP Challenge has become one of the many draws of the program for those seeking collaborative experiential learning opportunities. And as everyone continues to see, Mason not only participates but wins. "I am incredibly proud of our team's dedication, ingenuity, and all the hard work that brought us this victory," says former MRED Program Director Kat Grimsley. Mason's MRED students have been learning inside and outside of the classroom and have proved through their victory in the Challenge that they have the knowledge and the skills to develop communities themselves in the Washington, D.C., region and beyond.