In This Story
People Mentioned in This Story
Body
Lisa Gring-Pemble, an associate professor at George Mason University, has received a Distinguished Research Fellow Award from the Eastern Communication Association (ECA).
Inaugurated in 1910, the ECA is the oldest professional communication association in the United States. 
The honor was officially recognized at the 2023 ECA Convention, held in Baltimore from March 29 to April 2, where Gring-Pemble also appeared on two panels: "Reuniting, Reconnecting and Reaffirming Communication Research for a Post-Pandemic World" and "The Rhetoric of President Joseph Biden, 2021-2023: Early Evaluations."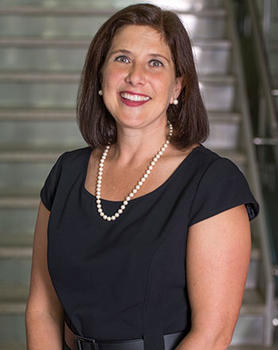 In order to qualify for the award, one must first be nominated by an existing fellow; nominations are then voted upon by all previous research fellows. Gring-Pemble was nominated by Raymie McKerrow, professor emeritus at Ohio University, who says, "Professor Lisa Gring-Pemble is a well-published author in both rhetorical criticism and business communication. Her rhetorical scholarship has covered myriad topics, from a focus on feminist rhetoric to satire, capitalist stories, equal pay, and extremist rhetoric among other topics analyzed." 
The unifying focus of Gring-Pemble's research, in her words, is "how language shapes beliefs and attitudes and ultimately leads to action." For example, her first peer-reviewed paper–which appeared in a 1998 edition of Quarterly Journal of Speech, the pre-eminent journal among communication scholars–closely analyzes written correspondence between Antoinette Brown Blackwell and Lucy Stone, two important nineteenth-century woman's rights activists. Gring-Pemble argues that Brown Blackwell and Stone used letters as a "consciousness-raising environment" bridging the private sphere and the public arena (from which nineteenth-century women were largely excluded). Further, she finds that this environment was critical to the formation of their highly influential political arguments and ideas. 
In the years since, she has published more than 20 papers in leading academic journals. In addition, her 2003 book Grim Fairy Tales: The Rhetorical Construction of American Welfare Policy (Praeger) looks at how narratives and stories influenced the "collective understanding" that underpinned Clinton-era welfare reform in the U.S.  She finds that the narratives congressional representatives and witnesses shared about welfare recipients in hearings and debates ultimately shaped welfare policy, even when those narratives contradicted social science data. 
Gring-Pemble's research interests also inform her approach to business education. "Communication in business often gets reduced to, 'can you speak well?' as opposed to, 'are you thinking critically about the context you're in?' Genuine communication implies constantly interrogating values that guide what you're doing, and integrating multiple perspectives," she says. 
She adds that "business schools need to do a much better job of valuing the humanities and incorporating humanities disciplines in their curriculum if they wish to provide students with the kind of robust educational experience they will need to succeed in a rapidly changing business environment that increasingly values people, planet and profit." 
At the 2023 ECA Conference, she was also named a Distinguished Teaching Fellow, in recognition of her accomplishments as an educator. Jackie Brown, chair of the business foundations area at the School of Business wrote that "Lisa is one of Mason's stand-out teachers, often recognized by students and faculty for her dedication. She is committed to making the student experience in our classes valuable and interactive… Her record shows excellence in her contributions and leadership to the school, university, and community." 
Former student Peter Kanellias, a graduate of Columbia Law School and an associate at Skadden, Arps, Slate, Meagher & Flom LLP, reflected in his nomination letter "I was somewhat of a difficult student and often tried to get away with putting in minimal effort, but Lisa never allowed that from me. I come from a family of uneducated immigrant small business owners, so without the mentorship of Lisa I would have had little to no guidance on succeeding in school and in the professional world.  I will forever be thankful that she saw potential in a not-so stellar undergrad student and still gave me the attention that professors might only give to their best and most committed students."    
Gring-Pemble was founding co-director of the Business for a Better World Center, as well as co-founder and founding director for the George Mason University Honey Bee Initiative. She serves on the Mason Sustainability Council, and on the advisory boards of Mason's Institute for a Sustainable Earth, UndocuMason, and the Academy of Business in Society, among other impact-driven initiatives. 
Gring-Pemble says that a major advantage of being an ECA Distinguished Research Fellow is that it places her in the center of "a community of scholars who share your passion for research and its connection to the world outside of the academy."