Body
The Master's in Real Estate Development (MRED) program provided Charles Dubissette, MRED '22, with the connections and expertise necessary to successfully launch his own brokerage firm. 
Charles Dubissette had already been a real estate professional with nearly two decades of working experience before he enrolled in George Mason University's MRED program within the School of Business. MRED's cross-disciplinary curriculum taught by real-world industry experts made a major impact, preparing and inspiring Dubissette to open his own brokerage firm called Capital Area Development. From the onset, he has been an advocate for the MRED program, continuing visits to campus to lend his support whenever he can.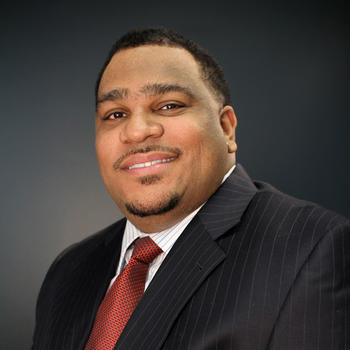 Knowing he wanted to learn more about real estate development to advance his career, Dubissette's search led him to a few universities that offered real estate programs, but Mason's program–specific to development–really drew him in. Conveniences like affordability, location, scholarships, and the ability to pay as he went each semester made the choice even easier. The faculty proved to be immediately supportive. Former MRED Director Kat Grimsley sat down with him prior to applying to go into detail about the program and answer any questions, also introducing him to MRED faculty and students. Mark Hassinger, partner at Hassinger/Armm Associates and adjunct faculty in MRED, taught several of Dubissette's courses and was an important coach for him throughout the program. Hassinger served as the faculty advisor for Dubissette and his MRED teammates as they competed in the Capital Challenge, a case study competition presented by NAIOP MD/DC (The Commercial Real Estate Development Association). 
Dubissette continues to stay in touch with Hassinger after graduation. "I came back for the Capital Challenge to help the teams after me," he says. "If they had questions on their market analysis or anything like that, I'd help them out." He tries to attend every MRED event that he can, including information sessions to speak with prospective students. In addition to giving back to the school and program, he's also strengthening his professional network in the process. "I've had a great network between Mark and Kat and all the other professors I've had," he says. "They are very good about opening up their networks to students." Now Dubissette is an important player in the network that current and incoming students can engage with. 
"When I started in MRED, I networked and met someone who was on the commercial brokerage side of the business and they invited me to join their brokerage," says Dubissette. After graduating from the program and working at the commercial brokerage firm, he had the skills to establish Capital Area Development. "Our approach is a little different than some of the larger firms where they may just come to help you sell one house," he says. "We're trying to figure out how we can get you there from where you currently are, whether that's one property or no properties, to your long-term goals, and that's by building a long-term relationship." Capital Area Development officially opened its doors to clients in April of 2023. 
The successes and growth that Dubissette has experienced from MRED has made him an enthusiastic spokesman for the program, as he encourages other real estate professionals to apply. "The amount of knowledge that I've gained through MRED was immense, whether it was gained through the law classes or the entrepreneurial classes," he says. The lessons learned and people met have given Dubissette a huge boost as he assembled a team and launched Capital Area Development. "There's a small percentage of minorities in commercial real estate, and as an African American now owning my own independent brokerage, I want to inspire other minorities to join the MRED program," he says. Charles Dubissette continues to benefit from his expanding network and knowledge, and he pays it forward to the MRED students following him.