Body
Each year, selected business schools can nominate up to two students for the Public Company Accounting Oversight Board (PCAOB) Scholars Program. For another consecutive year, both of the nominees from the George Mason University School of Business were selected for scholarships.  
Mark Hallo '22 and Nelson Lemus-Garay '22 will each receive a $10,000 scholarship for the 2023-2024 academic year for their graduate studies.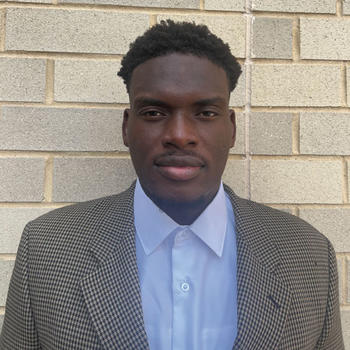 In addition to English, Mark Hallo is also fluent in the Twi, Ga, and Ewe languages of his native Ghana. He is now enrolled in the master of science in accounting program after completing his bachelor's degree in business with a concentration in accounting. Hallo is accustomed to helping others, including through his work as overnight support staff at Mason Life on campus, where he's responsible for aiding students with disabilities. "Just knowing that they can come to somebody who's kind of been through everything they're going through in terms of my college experience, I would say that's the biggest thing that I provide to my students," he says. "It's been a great program and it's taught me to appreciate the little things way more." Hallo has been working for Mason Life since 2019. 
Hallo is appreciative of the many professors who nominated him for the PCAOB Scholarship. The faculty has been immensely supportive of his entire academic career. "Bret Johnson was a great professor for me," he says. "Whenever I needed help, I had a call with him and we would go through the information. We just had a great dialogue throughout the whole class." Hallo's career goal is to run and operate his own successful business and he plans to launch his own LLC soon. He's confident that his hard work will put all of his dreams within reach, a testament to his parents who moved the family to the United States for better opportunities.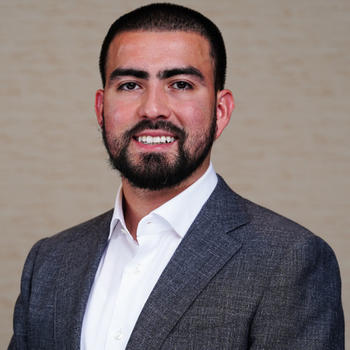 Now pursuing his master of science in accounting and accounting analytics graduate certificate, Nelson Lemus-Garay overcame much adversity to graduate with his bachelor's in December 2022. After transferring from Northern Virginia Community College, Lemus-Garay was faced with situational poverty brought on by the pandemic. With the help of Mason's resources, his resilience pushed him to graduate with honors, despite struggling to pay for housing and education. Winning the PCAOB Scholarship was a most welcome surprise. "This recognition really instilled in me that all my hard work, despite the adversity, put me on the path, thanks to George Mason and all my professors, to a CPA and a career in the accounting field," he says. 
"Professors like Maria Nykyforovych, Jenelle Conaway, and Steve Maex, really helped me and advocated for me throughout my undergrad and master's career," he says. "And Professor Long Chen really advocated for me and was a big part of me receiving the PCAOB Scholarship. I really appreciate everything they did for me to become a better student and better professional." Lemus-Garay never lost faith in his academic journey and now looks forward to a career working to improve the quality of financial statements, audits, and prevent fraud in accordance with the Sarbanes-Oxley Act. 
"The recognition of Mark and Nelson as PCAOB Scholars not only validates their exceptional dedication and perseverance in their academic pursuits but also highlights the transformative impact of education. Their remarkable achievements and ability to overcome challenges fill us with immense pride," says Long Chen, area chair and associate professor of accounting. "We wholeheartedly congratulate Mark and Nelson and eagerly anticipate the remarkable accomplishments they will undoubtedly achieve in the accounting field."  
In This Story
People Mentioned in This Story