Body
Shortly after transferring from Virginia Commonwealth University, Carrie He, BS Accounting '20, MS Accounting '21, felt the pull to change career paths and study accounting.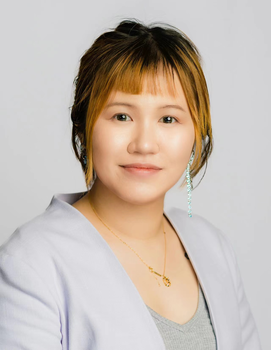 Recalling her mother's work as an auditor, He felt a similar inclination to the field. "I guess it just runs in my DNA," she says. Trusting the reputation of its accounting program, she transferred from Northern Virginia Community College to George Mason University, and it did not take long for her to realize she made the right decision. A few short years later, she has embraced her calling as senior associate in audit at Grant Thornton, one of the world's leading independent audit, tax, and advisory firms. 
"My favorite part of working at Grant Thornton is the work environment," says He. "I can be friends with everyone, it's like family." She enjoys being in the office with her colleagues, catching up at office happy hours, and knowing the firm's partners at a personal level. He's work as an audit senior associate varies day to day and season to season. During a typical day, she will have client or team meetings related to the audit engagement she is currently working on. Because she does a lot of work with people in India, the morning is often more convenient for them, and so she usually works with her India teammates on project coordination and their task assignments for the week. He's role as the senior associate on her public and private company audit clients also means she spends time supervising and guiding associates working on her team and working directly on more technical areas of the audit with the managers and partner assigned to the client. "It's challenging when working on complicated areas but also satisfying to see how much your knowledge can grow after," she says. Her fulfilling career validates the decision to change courses and enroll in Mason to study accounting. It was at Mason, while completing her master's degree, where she found her interest in Grant Thornton and submitted her application.  
During the master's in accounting program, she was submitting applications when Grant Thornton stood out to her. "It was within the city, had a great location, and they were offering the hybrid work environment at the time," she says. "I interviewed with Andrew and he explained the empowerment that I would have to captain my career and take it in different directions with the firm, including switching to different parts of Grant Thornton's business in tax or advisory in the future, if I wanted." 
Andrew Clements, audit partner at Grant Thornton, notes that "at Grant Thornton, we really appreciate the amazing candidates that Mason provides, who come with a practical real-world view through the great guidance they get from Mason professors as well as from being part of a diverse pool of students from many different backgrounds that often include work or study in other fields before accounting." Clements notes that He is no exception. "Carrie demonstrates everything we are about at Grant Thornton—she is curious to learn and challenge old ways of doing things and is a great teammate who is committed to doing what is right for both her team and for the quality of her work."    
He finds that much of what she learned at Mason is being applied now at her work with Grant Thornton. "They always say what you learn in college will be so different to when you're at work," she says. "But now I would say, while it's not 100% the same, there are so many skills you can use." One of her favorite courses was Business 498, which is a capstone case competition course for business. "We did this annual presentation to the group which was a lot of fun," she says. She got to be friends with Avinash Mainkar, assistant professor of management, and would later become his teaching assistant for the course, another great experience for her. "Carrie was always very organized and punctual," says Mainkar. "I appreciated never having to send her any reminders." Professor JK Aier, senior associate dean for academic affairs and global engagement, encouraged her to start with audit, even though that was a course that she previously struggled with. "Auditing is something where you can oversee all of accounting," she says. Professor Aier taught He to research and work through challenges on the way to finding the solution. That work ethic now benefits her at Grant Thornton, where working with a variety of clients brings lots of opportunities and the environment enables her to challenge herself to quickly grow and progress in her career through promotion and learning new skills. 
Carrie He is gratified that she listened to her gut and went back to school. Through her journey in accounting, she embraced the challenge of auditing, turning it into an area of specialty. After finding a school that empowered her to grow, she now works at a firm where the possibilities are seemingly endless.