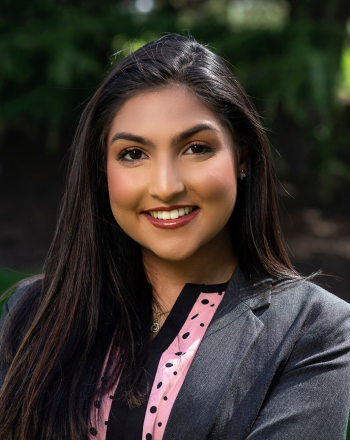 Titles and Organizations
Technical Discover Analyst at Federal Reserve Bank of Richmond
School of Business Alumni Chapter Friend of the Board
Biography
Bhagya Nair is a graduate with a Bachelor of Science in Information Systems Operations Management (ISOM) and minors in Business Analytics and Health Information Technology. Her journey at George Mason University's School of Business has included being an active member of the ISOM honors program, Business Living Learning community, and the Mason ISOM Association, as well as participating in a business study trip to Spain and Morocco and being a four-year Dean's List student.
Outside of her academic commitments to the School of Business, she takes pride in her leadership roles in multiple clubs and organizations on campus—from being director of the Tu Bhi Nachle dance competition and captain of the Mason Mahima dance team, to being APR chair of Alpha Xi Delta.
Her passion for public speaking and communication was noticed by Mason staff and she was recommended as a part-time instructor at the Communication Center, where she had the opportunity to aid students with speech writing and speaking. She was bestowed the honor and privilege of being the student speaker at Mason's 50th year, spring class of 2022, commencement ceremony.
Nair's interests in her free time include dancing, singing, drawing, catching up on TV shows, and spending time with her friends. She is an avid lover of dance and has been learning Indian classical dance (Bharatanatyam) for the past 15 years. She has performed on various stages in the United States and other countries for multiple charities. She currently works at the Federal Reserve Bank of Richmond as a technical analyst.