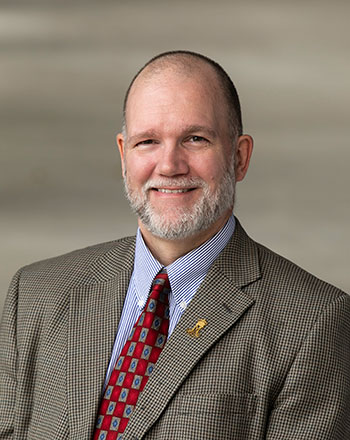 Titles and Organizations
Area Chair, Management
Additional Roles: Associate Professor, Management
Contact Information
Email: clangfre@gmu.edu
Phone: (703) 993-9662
Office Location: Enterprise Hall 220
Office Hours: By appointment
Biography
Claus Langfred is the area chair and an associate professor within the management area in the Costello College of Business at George Mason University. He received his PhD in organization behavior from the Kellogg Graduate School of Business at Northwestern University in 1998, and spent numerous years working at the Olin School of Business at Washington University before joining the Costello College of Business at George Mason University.
Langfred is extremely curious about the design and performance of teams, and his research has focused primarily on understanding the complex relationships between team design, dynamics and performance. This includes not only how team design can affect team dynamics, but also how team dynamics can affect team design. As such, this research is particularly relevant to self-managing and autonomous teams.
He has published research on the allocation of autonomy within teams, the effects of cohesiveness and norms, the interplay between autonomy and trust, as well as the effects of trust and conflict on team design. This research has appeared in such journals as the Academy of Management Journal, the Journal of Applied Psychology, the Journal of Organizational Behavior, the Journal of Management, Small Group Research, and others.
Research Interests
Autonomy and self-management in teams
Team design and performance
Intra-team Trust
Conflict management
Individual autonomy
Education
PhD - Organizational Behavior , Northwestern University
MS - Organizational Behavior, Northwestern University
BS - Business Administration, Washington University
Research and Awards
Published the chapter titled "Assessment for Leader Development" in The Wiley Blackwell Handbook of the Psychology of Recruitment, Selection and Employee Retention in 2017 by the publisher Wiley and Sons. 
Published an article titled, "Does Conflict Help or Hinder Creativity in Teams? An Examination of Conflict's Effects on Creative Processes and Creative Outcomes" (coauthored with Neta Moye) in the International Journal of Business and Management in 2014.
Published an article titled, "To Be or Not To Be Autonomous: Exploring Why Employees Want More Autonomy" in theNorth American Journal of Psychology in 2013.
Presented the paper titled "Freedom is Encapsulation: The Iron Cage of Job Autonomy" (with Kevin Rockmann) at the Academy of Management in Boston, Massachusetts in 2012. 
Was awarded the MS in Technology Management Professor of the Year teaching award from George Mason University School of Business.
Presented the papers titled "The Jerk, the Slacker and the Bonehead: A Model of Team Management of Emotion, Process and Structure as Responses to Problematic Members" and "The Trust Paradox: The Self-Destructive Relationship between Trust and Autonomy in Self-Managing Teams" at the Interdisciplinary Network for Group Research conference in Colorado Springs, Colorado. 
Teaching Interests
Leadership
Teamwork
Interpersonal skills