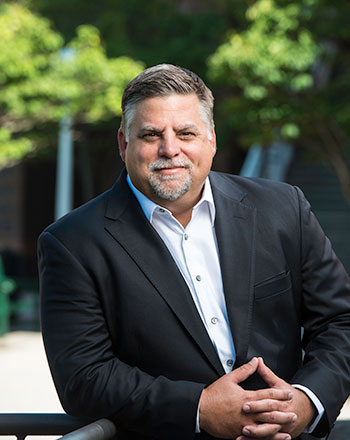 Titles and Organizations
Founder, Aligned2
Immediate Past Chair, Dean's Council
Biography
Aligned2 Founder Dusty Wince weds his real-world business acumen with executive coaching and advisory services to help entrepreneurs excel and their companies grow. He draws on his 30-plus years leading start-up companies from inception to acquisition to integration, particularly those focused on cyber security and enterprise technology services, to strengthen individual and enterprise decision-making and deliver better outcomes.
Prior to Aligned2, Wince served as the vice president of ManTech's Cyber Security Solutions Division after the $68 million acquisition of his Knowledge Consulting Group (KCG) in 2015. He founded KCG in 2000, presiding over its growth from one to 250+ employees and its recognition as the largest privately held cyber security services firm in the federal market. ManTech's Cyber Security Solutions Division, subsequently grew to 385+ cyber professionals who produced revenues of $138 million annually. Wince's depth of hands-on business experience includes expertise with consulting, technology service delivery, financial management, operations and business development. He also was co-founder and Vice President of Business Impact Systems (BIS), the 1998 No. 1 Fastest Growing Technology Company in Virginia and the District of Columbia. He sold BIS to CIBER for $63 million. Wince began his career with Electronic Data Systems and spent more than 10 years with the Military Systems Division.
Wince has a Bachelor of Science in Business Administration and Finance from the University of Phoenix and a Masters of Business Administration with a National Defense concentration from George Mason University. He completed the General Management Program for executives at the University of Pennsylvania Wharton School. He also completed the Executive and Organizational Coaching Program at Columbia University and achieved Columbia University's highest certification level for Executive Coaching.
Alumni Awards
Prominent Patriot, 2013
Distinguished Alumnus, 2013
Alumnus of the Year, 2014