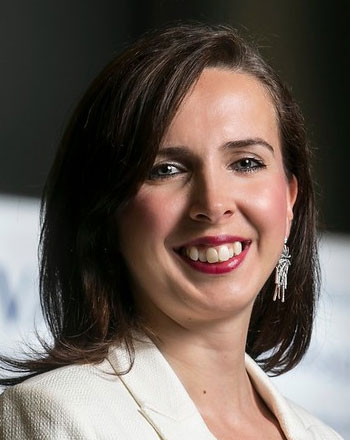 Titles and Organizations
Principal, Biomedical Innovation and Health, Mitre
Biography
Franziska Moeckel principal, biomedical innovation and health, at MITRE. Prior to that, she was the assistant vice president, personalized health at Inova where she oversaw the strategy development for genomic test integrations and was responsible for clinical implementation of precision medicine research achievements and discoveries.
Moeckel has successfully operationalized clinical programs, including leading market and risk assessments, IT systems integrations, managed care payer negotiations, marketing and communications plan creations, as well as operations and workflow developments.
She is the recipient of the 2018 Greater Washington Health & Life Sciences Innovator of the Year award, the George Mason University School of Business Distinguished Alumnus of the Year and Alumni Exemplar award. With over a decade of healthcare experience and a deep understanding of precision medicine integration, Moeckel is a respected thought leader in the field and consults on best practices for many national organizations.
She earned her Bachelor of Science from George Mason University's School of Business. She earned her master's degree in Business Administration from the University of Maryland, as well as a Certificate in Genomic Medicine and Bioeconomy from the Harvard School of Public Health. She has been published in peer-reviewed journals and trade magazines, quoted in industry-related books, and serves on multiple national panels and boards.