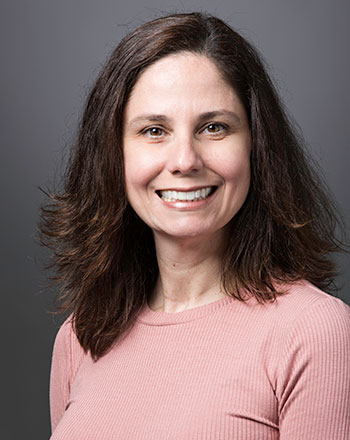 Titles and Organizations
Senior Instructor, Business Foundations
Additional Roles: Dean's Teaching Faculty Fellow
Contact Information
Email: ghendri2@gmu.edu
Phone: (703) 993-3386
Office Location: Enterprise Hall 137
Office Hours: Tuesday, 12:00 p.m. - 4 p.m. and by appointment
Biography
Gretchen T. Hendricks is a senior instructor in the Business Foundations Area where she teaches professional skills courses. Hendricks has spent over 15 years teaching psychology and professional development classes that prepare freshman for the college experience and assist upper classmen in navigating current job market trends. Hendricks utilizes her background in psychology to promote a student-centered approach to learning where students experience both self-reflective and practical opportunities to develop as individuals and professionals. She frequently takes on the role of mentor and advocate for students, consistently providing creative resources and transformational learning experiences that promote growth.
Hendricks has spent her career in both academic and private sector roles focused on workforce development initiatives, human resources communications, and career services programming dedicated to enhancing the personal and professional development of various clientele.
Research Interests
Kindness in the Classroom and in Society 
College Readiness and First Year Experience
Career Exploration and Development
Professional Skills Development
Student Achievement and Self-Actualization
Education
Graduate Certificate – Culture and Adult Learning, University of New Mexico
MA – Psychological Services (Counseling), Marymount University
BA – Psychology, University of South Carolina
Presentations and Awards
Presenter at the 42nd Annual Conference on The First-Year Experience, Developing Professional Skills in First Year Courses, February 2023. 
Recognized as Outstanding Professor in Business Foundations, 2018-2019 and 2021-2022 and 2022-2023. 
Media