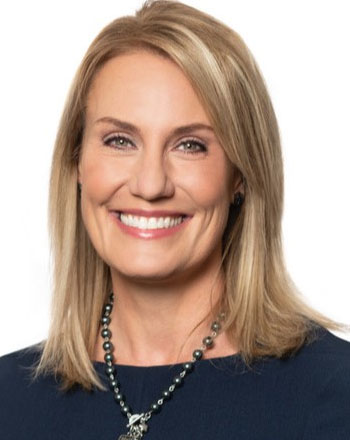 Titles and Organizations
President and CEO, Northern Virginia Technology Council
Chair-Elect, Management Advisory Council
Biography
Jennifer Taylor is President and CEO of the Northern Virginia Technology Council (NVTC), one of the largest regional technology councils in the nation with a mission to accelerate technology innovation and promote world class workforce development. NVTC is the trade association representing the national capital's vibrant technology community and serves organizations from all sectors of the industry, from small businesses and startups to Fortune 100 companies, as well as service providers, academic institutions, and nonprofit organizations.
Nearly 400 member companies make up the NVTC membership and look to the organization as a resource for networking and educational opportunities, peer-to-peer communities, policy advocacy, industry promotion, fostering of strategic relationships, and branding of the region as a major global technology center.
Taylor joined NVTC after working at the Consumer Technology Association (CTA) where she served as Vice President of Industry Affairs. While there, she engaged with its over 2,000 member companies from Amazon, BOSCH, Google, IBM, Microsoft and Sony Electronics to Ford, Lyft, Toyota and Uber. Taylor launched CTA's 21st Century Workforce Council and the Diversity and Inclusion Working Group to help the tech sector close the nation's skills gap, increase awareness of the growing number of high-skilled tech-related jobs, and build a fully-equipped, diverse and inclusive national workforce.
Previously, Taylor served as Executive Vice President of Sales and Marketing at Caring Village, a former subsidiary of Segue Technologies. Prior to that, Taylor worked at AARP for over 10 years as Vice President of Business Development where she developed and launched a tablet for tech-shy seniors in partnership with Intel® and created multi-channel revenue sales strategies for a wide range of industry verticals including consumer technology benefits for AARP members.
Earlier in her career, she served in leadership roles at the American Red Cross, RTCRM (a Wunderman Company), KSK Communications and the American College of Cardiology.
Taylor frequently writes and speaks on the topic of 'The Future of Work', highlighting best practices and new ways for employers to attract, hire, train and upskill Americans to perform in-demand jobs. Her op-eds and articles have appeared in publications such as Technical.ly, The Hill, Fox Business News, The Next Web's PODIUM, and It Is Innovation-i3. Taylor has also served as a host and presenter at CES, the Global Stage for Innovation, in the CES Future of Work and Innovation for All conference tracks.
Taylor holds an undergraduate degree from the University of Michigan and an MBA from George Mason University. Taylor is the recipient of the Prominent Patriots in Business Award from the George Mason University School of Business (2019), the Tech Titans Award in The Networkers, Nonprofits, and Incubators category by Washingtonian magazine (2021), and two American Red Cross Tiffany Leadership Awards (2000). She was also a CBS News Fellow in New York City in 1991.
Taylor is the President of the NVTC Foundation. She also serves on three Board of Directors: GOVirginia Region7, George Mason University MBA School of Management, and TECNA (Technology Councils of North America).