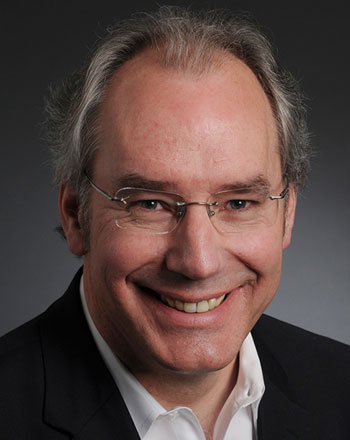 Titles and Organizations
Associate Professor, Management
Additional Roles: Entrepreneur in Residence
Contact Information
Email: jwolfe7@gmu.edu
Phone: (703) 993-3156
Office Location: Enterprise Hall 207
Office Hours: Tuesdays before class, or by appointment
Biography
Jim Wolfe is a management executive, consultant, and attorney with 25 years experience helping emerging growth firms. He is the CEO and co-founder of J Street Consulting, a Washington, D.C., firm providing strategic marketing for new products, markets, and companies. He also serves as the Entrepreneur-in-Residence and assistant professor of management in the Costello College of Business at George Mason University.
Wolfe specializes in new ventures and organizations undergoing dramatic transitions, both large and small. He has been a founder, director, or consultant to more than 50 early-stage firms in a wide range of industries including the Internet, software, biotechnology, international trade, telecommunications, legal services, real estate, manufacturing and retailing.
In 1990, Wolfe was one of the first Americans called to East Germany to help with the economic transition following collapse of the Berlin Wall. Since then, he has been an advisor to more than 100 international M&A transactions across Eastern Europe and Central Asia, as well as Africa and Asia. He has served as an advisor to the World Bank, USAID, U.S. Department of Agriculture, and the Federal Republic of Germany on privatization and foreign direct investments.
Wolfe is a past director of the National Entrepreneurship Foundation, the National Business Incubation Association, and is a former Trustee of Indiana University. He also has served as an adjunct professor at the University of Maryland, where he taught courses on business planning, venture capital, and international entrepreneurship.
Previously, Wolfe served as vice president of the Indiana University Foundation, the research and development endowment of Indiana University, during a $350 million capital campaign. Earlier he was corporate counsel to Finalco Capital Corporation, where he held N.A.S.D. securities principal licenses. He began his Washington, D.C., career as legislative director for U.S. Senator Dan Quayle.
Jim Wolfe holds a BS, MBA, and JD, all from Indiana University.
Research Interests
Entrepreneurship
Emerging growth firms
Education
JD, Indiana University
MBA, Indiana University
BS, Indiana University
Research and Awards
Was awarded the MBA Faculty of the Year from George Mason University School of Business in 2013.
Presented the paper titled "It's Complicated: The Relationship of the Researcher and the Founder" at the Federal Laboratory Consortium Annual Meeting in Cambridge, Maryland in 2012. 
Had the presentation titled "Innovation Engineering: The Key to an Effective Economy" published in the proceedings from the Polish Patent Office Annual Meeting in 2012 (with coauthor Tomasz Arciszewski).
Awarded the EMBA Faculty Member of the Year - 2nd Year from George Mason University School of Business in 2012.
Named as a finalist for the Entrepreneur Navigator of the Year Award from the Northern Virginia Technology Council (NVTC) in 2012.
Presented the paper titled "What Makes Successful Local Entrepreneurship?" at the George Mason University Business Roundtable in McLean, Virginia.  
Presented the paper titled "Driving Corporate Growth Through Entrepreneurship & Innovation" at the CFO Alliance Roundtable Meeting in Bethesda, Maryland. 
Awarded the George Mason University School of Business Graduate Faculty Teaching Award for the Class of 2011.
Awarded the George Mason District Outstanding Service Award 2010 from the Boy Scouts of America, National Capital Area Council. 
Awarded the MBA Distinguished Service Award 2010 from George Mason University School of Business.
Media Clippings
Teaching Interests