Body
The business school's SOAR Initiative is a critical building block in George Mason University's efforts to advance social mobility, or an individual's ability to improve their socio-economic status. U.S. News & World Report's Best Colleges 2024 ranks Mason #1 on social mobility among public universities in Virginia. 
On Saturday, September 9, the Center for Innovation and Entrepreneurship (CIE) at George Mason University's School of Business launched its new inclusive entrepreneurship training initiative, SOAR. The grand launch took place from 11 a.m. to noon at the Lutheran Social Services of the National Capital Area (LSSNCA) Resource Center in Alexandria, Virginia. The SOAR Initiative provides resources and training for aspiring entrepreneurs who are refugees and immigrants, currently in a low socio-economic status, or residing in rural and emerging communities. Joining Mason faculty and staff at the event were donors, mentors, community partners, and LSSNCA staff and volunteers.  
Becky Howick, CIE director of operations and engagement, welcomed attendees and thanked SOAR's partners and contributors. She spoke about the first cohort of the initiative—the Shrivastava Family Refugee and Immigrant Success through Entrepreneurship (RISE) program participants. Recognizing that many of them were already successful entrepreneurs in their countries of origin, she said, "The courageous people participating in this program have been referred to us through their LSSNCA employment coordinators. They have been identified as ready to take on this next chapter in life and realize their vision for the future." Howick then introduced Hasib Satary, director of employment services for LSSNCA, which is a strategic partner in this initiative. He spoke about the history and functions of his organization, including their vision to create a more inclusive community of well-being where people thrive. LSSNCA accompanies those in need along their journey to foster resiliency, self-sufficiency, and access to opportunities by creating, connecting with, and engaging welcoming communities.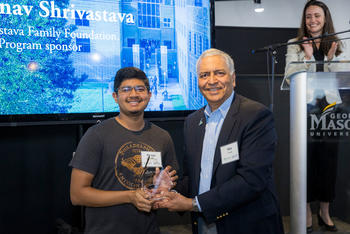 Following Satary's remarks, Howick introduced Dean Ajay Vinzé to the podium. Dean Vinzé outlined why the initiative is so important and why the school's Center for Innovation and Entrepreneurship is the best place to house it. He also spoke of its intended impact on the region and participating communities. "Communities reap the benefit of entrepreneurship because it fosters innovation, promotes economic development, and creates jobs," he said.  Pranav Shrivastava, an economics student at Mason and son of Sumeet Shrivastava, MBA '94, also attended the event. Dean Vinzé shared a statement from Sumeet about the family's history of immigration and entrepreneurism, emphasizing that the SOAR Initiative aligns with their own values and vision of giving back to the community. Dean Vinzé then presented Pranav Shrivastava with an award to recognize the transformative gift from the Shrivastava Family Foundation, which has made the RISE program possible. 
Crystal Fickers, CIE associate director and instructor for the RISE Program, shared her story of running multiple businesses, many of them overseas, and working directly with refugees and asylum seekers. "The SOAR Initiative is a different type of program," she said. "We will not be teaching academic theory. This program will be a unique and inclusive business incubator where we walk hand in hand with participants to start their businesses and ensure that it is profitable enough to positively impact their personal or family income." She spoke about a refugee from Afghanistan that participated in an entrepreneurship training program she ran through her business in Australia. As a shy teenager, Jamshid fled violence in his home country and arrived in Australia unsure of how to overcome the challenges he faced. Through mentorship and hard work, he excelled and became an entrepreneur running a barista certification business. "His story is a testament to the incredible impact that such a training program can have on an individual," said Fickers.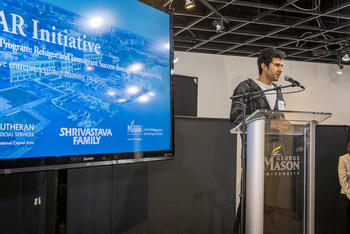 Mohammad Rafiq Katawazai concluded the scheduled remarks by speaking from the heart on how excited he is that the RISE Program will empower him to continue developing his business ideas. All of the morning's speakers shared the excitement in what this inclusive SOAR Initiative will mean for community members, George Mason University, and the larger entrepreneurial ecosystem. 
Also in attendance was JK Aier, senior associate dean for academic affairs and global engagement at the School of Business, who has played a vital role in developing this new initiative and has been a key contributor to the strategic vision and formation of partnerships to power its success. "The SOAR Initiative provides a holistic model for launching and managing a business, including a Startup approach to developing an entrepreneurial mindset, Opportunities for community building and business engagement, Access to mentoring, and a Roadmap to successful outcomes," said Aier. "What distinguishes this entrepreneurial program from others is its focus on diversity and inclusivity, which are both pillars of the Mason brand."  
The grand launch of the SOAR Initiative is a monumental step forward for the School of Business and its focus on advancing social mobility. The initiative's innovative format facilitates the transformation of aspiring entrepreneurs and their families who face longstanding structural inequities in accessing training and support resources. The Center for Innovation and Entrepreneurship is truly living up to its name, making a difference in empowering entrepreneurs and driving growth of the region's entrepreneurial ecosystem. 
The Center for Innovation and Entrepreneurship is currently recruiting additional volunteer mentors for these aspiring entrepreneurs. Visit the SOAR Initiative webpage to learn how you can get engaged or donate to the program. 
In This Story
People Mentioned in This Story