In This Story
People Mentioned in This Story
Body
His training as a mechanical engineer taught him to eliminate waste and squeeze inefficiencies out of manufacturing methods. When he realized he could take those same skills and use them to improve business processes and reduce negative environmental impacts, Yannis Bellos found his way into the field of sustainability.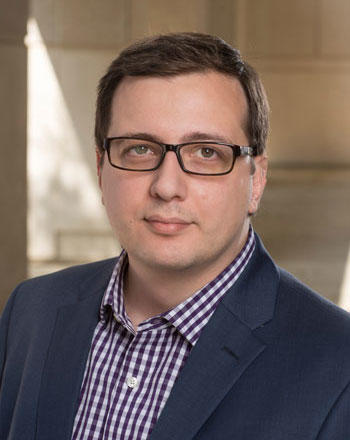 Bellos, associate professor for Information Systems and Operations Management, has been with George Mason University School of Business since 2012. His research interests sit at the intersection of sustainability and service operations—making him a perfect member of the Business for a Better World Center (B4BW) affiliate faculty team. Bellos' work places a particular emphasis on innovative business models shaping what is known as the sharing and access economy and has appeared in book chapters and leading academic journals alike.
Recently, we had the opportunity to catch-up with Bellos to learn more about his journey to the business for good space, and how his research contributes to the cause.
What motivated you to start working in the sustainability space?
I don't think there was a single defining moment. As an undergraduate student, I studied Mechanical Engineering, which involved improving production processes and their efficiencies—essentially, identifying ways to do more with less, thereby increasing the economic bottom line. It wasn't until I started my PhD studies at Georgia Tech's Scheller College of Business when things started to click.
This is when I began to realize that my previous training could apply to organizations as well as machines. I could take the 'do more with less' mindset and improve not only economic but also environmental performance. My subsequent training in business and, specifically, in operations management complemented my engineering background very well. It provided me with a more holistic view of organizations and the broader impact of their value creation activities.
What can you tell us about your ongoing research?
In 2015, the United Nations established 17 Sustainable Development Goals (SDGs) as a means of catalyzing actions that can ensure a sustainable future. My ongoing research fits under SDG 11, which is about building sustainable cities and communities.
Recently, I have been focused on the adoption of innovative technologies and business models in the transportation sector. According to the Environmental Protection Agency, the transportation sector accounts for the largest share, roughly 28 percent, of the greenhouse gas emissions generated by human activity in the United States. One of my current projects—a joint effort with Mason colleague Hang Ren and Vishal Agrawal of Georgetown University—examines the adoption of electric vehicles.
The conversation regarding the electrification of the automotive industry has primarily only considered auto manufacturers' willingness to invest in this technology and customers' willingness to buy it. However, the role of car dealers, the main points of contact between auto manufacturers and customers, is not well understood. We know that many car dealers are hesitant to promote or even sell electric vehicles. Our research identifies the conditions under which car dealerships have an incentive to facilitate electric vehicle adoption. In other research projects, I focus on the economic and environmental aspects of ridesharing business models, and whether these models might result in higher vehicle production and usage.
But you're doing more than just research, can you describe some of your other activities?
Over the past several years, I have organized mini-conferences, workshops, conference tracks, and student paper competitions under the broader umbrella of Sustainable Operations.
A year ago, right before the onset of the pandemic, I helped plan the 2020 Early Career Workshop on Sustainable Operations—a workshop co-sponsored by B4BW, the McDonough School of Business at Georgetown University, and Georgia Tech's Ray C. Anderson Center for Sustainable Business. Held at Georgetown University, the event brought together more than 60 faculty members, PhD students, and post-doctoral researchers from 35 different business schools. It was really exciting. Each talk presented a fascinating learning opportunity on topics ranging from agricultural supply chains to social responsibility, energy, and other emerging issues in the domain of sustainability and how business can help alleviate them.
It really brought home the point that business schools have important roles to play in educating responsible leaders and continuing to push the envelope by conducting research of consequence. I believe that our School of Business and B4BW is well-positioned to take on that challenge. A significant number of our faculty members, many of whom also attended the workshop, already do research in this domain.
Yannis, thank you so much for your work in this field and your commitment to B4BW. What could we be doing to support your and your colleagues' research and other efforts?
Just keep doing what you are already doing!
That is, keep bringing together people with similar interests, no matter what the parent discipline, in the same room and exposing faculty members and the broader Mason community to practitioners and thought leaders from outside our school and university. Doing so allows researchers to keep an ear to the ground for emerging challenges, schools of thought, and state-of-the-art approaches for any issue at the intersection of business, society, and the environment.