In This Story
People Mentioned in This Story
Body
Brian K. Ngac, instructor of Information Systems and Operations Management, was named one of 2021 Dean's Teaching Faculty Fellows. Ngac, a soon to be Triple Patriot, graduated from George Mason University in 2016 with a bachelor's of science and again in 2017 with his master's of science both in Applied Information Technology. Ngac is currently pursuing his doctorate in Information Technology at Mason's College of Engineering & Computing.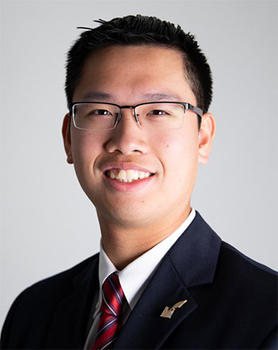 Ngac has been teaching since 2008, albeit as a junior Taekwondo instructor while still in middle school. It was then he realized that he enjoyed connecting with students of all ages. In 2013, he interned with the Parsons Corporation, and worked with one of their clients, the United States Air Force, where he provided training for a technology platform he helped develop. "I would say my ability to breakdown complicated subjects into simple components and deliver them effectively to my students is what drew me to teaching and keeps me teaching. And of course, seeing the success and accomplishments of my students during and after they're with me," Ngac said.
"Since joining in 2019, Brian has been an invaluable member of the ISOM family. Using his expertise in cybersecurity, he has introduced new courses, including an experiential project course with business clients. His teaching evaluations have been outstanding. Brian has also enthusiastically participated in other area activities. I'm really happy that his contributions are being recognized by the school through this award," said Pallab Sanyal, ISOM area chair.
Ngac has created two courses for the School of Business. The first is a custom section of MIS 462 Honors Seminar in Management Information Systems to help students gain a better understanding of cyber security. "This honor's seminar gives students an insight into how information security threats, principles, and practices can be, and should be, applied to different areas of the business environment—as well as their own personal lives," Ngac said.
The second is an experiential course titled Technology Analysis & Proposals with Clients, and is currently being offered as MIS 491 Seminar in Management Information Systems. In this course, students are placed into groups and are assigned to work with a real-world client solving an issue the company is having. Students are asked to propose and present to their clients quantitative analyses and visual models of their client's current and desired states, solution analysis of alternatives, risk/risk response strategies, interface and architectural design options, as well as implementation strategies. "Students get to experience how projects are run in an agile environment where client requirements are constantly changing. They learn how to interact with, update, present to, and receive feedback from a real client—all of this before they graduate," Ngac said.