In This Story
People Mentioned in This Story
Body
Gretchen Hendricks, instructor of Business Foundations, was named one of the 2021 Dean's Teaching Faculty Fellows. While Hendricks joined the Foundations area in 2016, this wasn't her first position with the School of Business.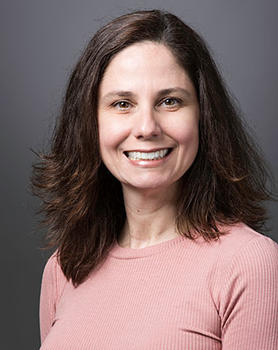 "I served as the director of Career Services and Placement in the early 2000's, a role that provided the perfect training ground for the professional skills courses I currently teach. The formation of the Foundations area, and the opportunity to teach the BUS 103 and BUS 303 courses is specifically why I returned to Mason. It has been a full circle experience," Hendricks said.
Frequent collaboration with her colleagues has influenced her teaching style and standards, allowing her to become a better professor as a result. "My fellow professors are mentors and friends, and I count on them to challenge me in ways that encourage me to continue to grow and be my best in my own teaching journey," Hendricks said.
"Gretchen is a teaching exemplar in both the online and face-to-face classrooms, a combination which is uncommon to find in the same person. She was recently nominated for two 2021 George Mason University Teaching Excellence Awards, one for face-to-face and one for online. Her passion for students and for teaching also allow for engaged conversations amongst colleagues, which promote the same critical thinking skills we ask of our students," said Jackie Brown, area chair of Business Foundations.
Last year, Hendricks partnered with WGMU Radio to create a new assignment for her BUS 303: Developing Your Professional Skills course. Students were assigned to create podcasts on professional skills topics that were covered in the class, such as emotional intelligence and leadership. Creating the podcasts encouraged students to improve their research, rhetorical awareness, organization and time management, and communications abilities. Several of the podcasts were shared through the WGMU Radio SoundCloud page so the Mason community could enjoy listening to them.
It's clear that Hendricks has a passion for teaching and coming up with innovative ways to keep students engaged in the classroom, "Working with students to assess and teach them how to leverage their strengths and skills, build a network, and actively connect to opportunities that will fulfill their goals and own potential is an amazing and rewarding experience," Hendricks said.