Body
George Mason University School of Business has become an institution defined by its ambitious and hard working student body, who balance many unique leadership roles and responsibilities. Sher Khan embodies what it means to be a School of Business Patriot. Khan works full-time at Airbus, a European aircraft manufacturing firm, and is a recent graduate of the Master of Science in Management ('20) program. But there's more on his plate than his professional position and rigorous academic workload. Khan is helping those less fortunate achieve their dreams of higher education.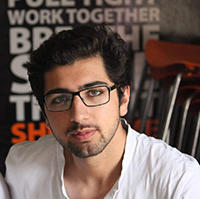 Originally from Pakistan, Khan has lived on four continents and has seen the relationship between poverty and lack of education firsthand. He was inspired to found Life Sponsorer to break down cultural barriers and bring forth social change, specifically for funding education in his native region. A significant component of the program is to persuade families to allow women to further their respective educations rather than being rushed into early marriage. Persuading the families becomes far more feasible once the financial obligation is no longer an obstacle to the young woman's family. The cost of an education for a child in rural Pakistan is so small to someone of means. "One night of staying home instead of going out for me was a year's education for someone else," he explains.
After seeing that the need was there, and a desire to give back by many higher-income individuals, Khan wanted to bridge the gap. "Those wanting to donate could choose whose education they want to sponsor, and in real time, could track whom their charitable giving was benefiting," he says. Many of the generous people who participate in giving will visit the schools in-person to see the difference they are making.
Others prefer privacy and are content with hearing updates. "For people outside of Pakistan, they donate directly to me, and I provide to them a cloud-based file that is continually updated as the receipts for the supplies and books are received," says Khan. Seeing their dollars put to work is a gratifying experience that makes them more likely to give again and persuade others as well.
As for Khan's future plans, "I plan to enter management consulting, which will give me a platform for problem solving, and work to build and sharpen a wide range of professional skills," he says. This is just the beginning of Life Sponsorer, a lifelong project that will continue to grow as his network and skills expand. It is important to Khan that he travels back to Pakistan as often as he is able. The local people have entrusted him to drive social change, and he is up to the task.