In This Story
People Mentioned in This Story
Body
Christine Landoll, director of Business Engagement and instructor of Business Foundations, was named one of the 2021 Dean's Teaching Faculty Fellows. Landoll graduated from the School of Business in 1989 with a Bachelor of Science in Accounting, and again in 1992 with a Master of Science in Taxation.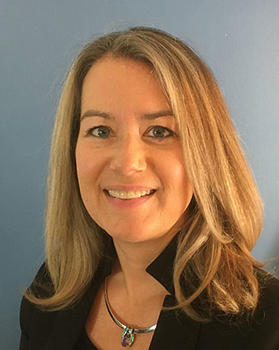 After having worked as a certified public accountant at Deloitte in various roles including as a tax consultant and as a managing director, Landoll began at the School of Business as an adjunct in 2017 and says teaching has always been a passion. "I facilitated training sessions when I worked for Deloitte and was the director of Tax Learning and Performance Enhancement, being able to positively impact people's lives and futures—well there is nothing greater," Landoll said.
"Christine's largest contribution to the area and school is her ability to see and develop connections; whether those be with students, faculty, staff, or the community, her enthusiasm for Mason and the impact we have on our students and local business is contagious. She strongly believes in the good Mason does and that we do as educators. She sees our role as educators as her responsibility to reach every student and to help each one better their professional skillset," said Jackie Brown, area chair of Business Foundations.
Landoll, president-elect of the George Mason University Alumni Association and the new Alumni Association representative to the Board of Trustees, has received multiple recognitions from the Stearns Center for Teaching and Learning's "Thank-a-Teacher" program. Landoll goes out of her way to help and guide her students, even serving as a faculty advisor for the Alpha Kappa Psi Fraternity. "​This is the oldest business fraternity in the country and accepts students from any area on campus which I love—working across disciplines is key in the business world—it widens your perspective and helps you solve problems more holistically," Landoll said.
When she was at Deloitte, Landoll served on the School of Business' Accounting Advisory Council and enjoyed giving back to her alma mater. Landoll was impressed with how Mason encouraged the input of businesses to strengthen curriculum and enhance engagement with students. So when it came time to establish the School of Business' Management Advisory Council in 2019, it was a no-brainer. "Human resources is a passion area of mine so when I saw an opportunity to establish the Management Advisory Council (which includes HR, consulting, and entrepreneurship) I jumped at it. There is so much potential in each of these areas—I wanted to be a part of that," Landoll said.
Her favorite thing about the School of Business? The students naturally. "Our students actually make me a better professional, I have to practice what I preach—so I network, I post to social media, I think about what 'brand' I am creating, I never stop learning, I get comfortable with pushing myself to be uncomfortable—that is where you grow, and the list goes on—I love that! Plus watching the students do the same and really transform themselves into business leaders is so rewarding and fun to watch," Landoll said.