In This Story
People Mentioned in This Story
Body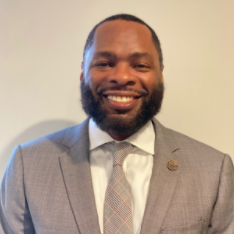 To advance the educational opportunities available to disadvantaged students, Darin Simmons Jr. recognizes that his pursuit of lifelong learning is essential, as it provides him with the skills and knowledge needed to make the difference he envisions. Prior to graduating from George Mason University School of Business MBA program in 2011, Simmons completed a master's degree in education from the School of Education. With his combined Mason experiences in tow, Simmons felt he had the necessary tools to chase his career passion of helping disadvantaged students succeed.
When it comes to diversity, equity, and inclusion (DEI), Simmons recognizes there's challenging work to be done, work that won't be accomplished overnight. "Leadership has to focus on the right points," he says. "They have to understand what it takes to be an anti-racist organization and act that way daily." He sees Richmond Public Schools, the school district where he served as the chief operating officer, as an example of doing it the right way. But how can other districts and companies begin to instill immediate change? Simmons encourages them to look at the data first. "I'd love to see a greater spend on minority-owned businesses, but it starts with leaders tracking their progress and explaining why DEI decisions are important."
For Simmons, the Mason MBA offered him great opportunities for networking and expanding his skillset. "The cohort setup of the MBA program was incredible," says Simmons. He valued learning from his classmates' perspectives, which spanned both industries and backgrounds. And those relationships transformed his life professionally and personally. In fact, one of his very closest friends to this day was a classmate he met in his MBA cohort. Earning the degree prepared Simmons to make a key pivot in his career, moving into operations and organizational culture. "Learning the finance language of administration was a significant takeaway I had from Mason," he says. The advancement of his education helped lead to an advancement in his career.
Most recently, Simmons served as the chief operating officer at Bottom Line, whose mission is to assist low-income and first-generation students into enrolling in college and support them through graduation. Here, he helped implement the organization's "Foundations," which speak to Bottom Line's commitment to diversity, equity, and inclusion, and engaged with an organizational policy review committee to annually review a specific set of policies to make sure they center people and further the organization's Foundations.
As the incoming chief people and operating officer at Educators for Excellence (E4E), Simmons is excited to lead operations that help implement teacher voice into education policy decisions. The new opportunity at E4E offers enticing challenges–challenges Simmons' is well prepared for thanks to his career and educational journey.
Topics