Body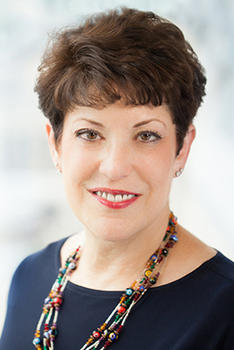 With a desire to help others and run a business on her own terms, Judy L. Redpath, MBA '84, founded VISTA Wealth Strategies, a financial planning and wealth management firm, in 2006. She cherishes working alongside her clients to construct roadmaps to their dreams, and her successes in doing so have led to being named to Forbes' Top Women Wealth Advisors Best-In-State1 list. "I know the awards process is incredibly daunting," she says, "so it's really an honor even to be nominated." As much as public recognition reinforces the work she's been doing, she finds that it's the happiness and legacies of her clients that are the true rewards.
At VISTA Wealth Strategies LLC, Redpath has assembled a tight-knit team while leveraging a relationship with their strategic partner, Commonwealth Financial Network®, a privately held Registered Investment Adviser, through which she offers advisory services. Judy's grateful for the trust of her clients, which has put her in the position of receiving the Forbes honor. "Our focus is on our clients and what matters to them," she says, "from where they are today, to where they want to be, and what brings them joy." Her emphasis on lifetime relationships and putting people first hearkens back to why she founded VISTA Wealth Strategies in the first place—to help clients on their journeys through life and create legacies that matter to them.
In the late 70s, Redpath hadn't heard of George Mason University at all. Of course, the university was young and the School of Business (then Management) even younger. It wasn't until she saw the course catalog on a friend's coffee table that she began asking questions. Judy learned that she could fit the MBA program at Mason into her professional schedule and lifestyle instead of leaving the workforce to go back to school full-time. Able to avoid debt by paying the affordable tuition as she took courses, she worked full-time while taking the classes at night.
A few decades later, she still enjoys being involved with the school, and finds joy in watching Mason continue to grow. "Because of Mason's reputation now, my degree's worth has never been greater," she says. Having served as a Founding Member of the Women in Business Initiative (WIBI) Board and now sitting on the Financial Planning and Wealth Management Advisory Board, she has been generous with her time in pushing the school toward an even brighter future. She takes being a Patriot for life to heart. When Redpath was being honored as a Prominent Patriot in 2015, she remembers being congratulated by a familiar face. "Bob Johnston [retired associate professor of finance] warmly greeted me and I reminded him that he had been my academic advisor," she says. "He was so helpful to me when I was taking my classes." In a similar fashion of how Redpath now guides her clients toward their dreams and success, Johnston and others at Mason did the same for her.
Remaining close to Mason, Redpath wishes to share lessons she's learned with current students. "Listen, practice patience, keep a long-term perspective, and learn something new every day," she says. Words of wisdom that would aid anyone in reaching their goals. In terms of the treasure, talent, and time that she's able to give back, she has reached a point in her career where she considers time to be the most meaningful. She recognizes that it's a gift to reach a point in her career where she gives back more and that her time is truly valued by those she shares it with.
---
From Forbes.com
1 The ranking of Forbes' Top Women Wealth Advisors(1) is based on an algorithm of qualitative and quantitative criteria, including a minimum of seven years of experience, a minimum of $1 million in production, and the weighing of factors including revenue trends, assets under management, compliance records, industry experience, and best practices (gathered through telephone and in-person due–diligence interviews). SHOOK Research also employs an opinion-based weighting system that prioritizes its preferred "best practices," which include business models, activities, processes, and structure. Overall, 9,850 advisors were considered, and 1,377 (14 percent of candidates) were recognized. For the full methodology(2) that Forbes developed in partnership with SHOOK Research, please visit https://www.forbes.com/best-in-state-women-advisors/#3763ea5c6b20.
This recognition and the due-diligence process conducted are not indicative of the advisor's future performance. Your experience may vary. As your specific needs and circumstances may vary, you are encouraged to conduct your own due diligence.

 

Portfolio performance is not a criterion due to varying client objectives and lack of audited data. SHOOK does not receive a fee in exchange for rankings.

 
Topics