Body
In the 20th century, marketing involved plenty of trial and error. Companies would experiment with different methods of connecting with the customer, and when they struck pay dirt they would mine it for all it was worth.
Today's successful marketing strategies involve the smart use of digital data. With omnichannel technology, companies can track the customer journey all the way from preliminary Google searches to in-store purchases. And AI tools such as dynamic pricing, responsive website design and in-app promotions allow brands to translate data-based customer insights directly into higher profits.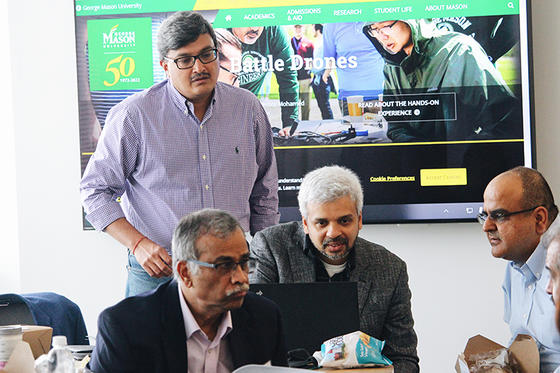 Academic researchers are also dependent on data as raw material for knowledge creation. That's one reason why George Mason University marketing professors Saurabh Mishra and Tarun Kushwaha felt it was a perfect time for academics and practitioners in the field to come together and compare notes.
On Friday, June 3, more than 20 participants from business schools across the country joined Mason marketing faculty for a day-long Marketing Research Symposium at the IDIA Classroom Space in Vernon Smith Hall, Mason Square.
"The symposium aimed to bring together leading scholars and practitioners to discuss implications of digital transformation on innovation, consumer behavior, and the rapidly changing competitive landscape," Kushwaha said.
In addition to research talks, there was a panel discussion on digital transformation in retail featuring three industry experts: Ed Durbin, senior director of retail industry solutions at VMWare; Tom Litchford, head of worldwide retail and wholesale distribution at Amazon Web Services; and Brendan Proctor, an industry advisor and former president and CEO of Lidl US. The panel was moderated by Mason marketing professor Gautham Vadakkepatt, who is also academic director of the Center for Retail Transformation in Mason's School of Business.
The panelists talked about the changes and challenges the pandemic brought to retail. Litchford said that Amazon Fresh, the tech giant's rapidly growing grocery chain and  already a leading innovator, added new technologies to serve customers who are less and less willing to spend unnecessary time in the store. At certain locations, customers needn't even get out of their cars – they can place an online order in advance, drive to the store and have their purchases brought to them, thanks to sensors in the parking lot that can identify license plate numbers.
Proctor pointed out that the growth of e-commerce has put severe pressure on the grocery business, where profit margins before COVID were as low as 1.5 percent. Without the upselling and impulse buys of the physical store, these slim gains are at risk of declining. Nonetheless, companies are investing in digital solutions because they know that is the future of the industry. Additionally, they are gravitating toward trends with the potential to increase margins, such as microfulfillment centers that stock only the most popular products.
As a high-ranking executive in VMware's retail division, Durbin provides IT solutions to global retailers." He said that his clients have started to realize the need for each of their locations to have its own data center. As new data-generating technologies such as machine learning and the Internet of Things continue to proliferate, the ability to immediately capture and deploy relevant insights is an increasingly important source of competitive advantage, he said.
Companies can form mutually beneficial partnerships with academia for data mining, as explained by  faculty presenters including Puneet Manchanda, the Isadore and Leon Winkelman Professor at the University of Michigan's Ross School of Business. Manchanda developed a theory for optimizing the online delivery of video ads using actual viewership data from a streaming platform.
P.K. Kannan, associate dean for strategic initiatives at the Robert H. Smith School of Business at the University of Maryland, explained how he leveraged data from a global bank to explore the complicated impact of automation on employee behavior and performance. And Mason's Kushwaha used automated text analysis to diagnose "marketing myopia" among top management teams.
The symposium took place in the pilot space in Arlington that serves as a precursor to Fuse at Mason Square, the 345,000-square-foot innovation hub that will foster active-learning collaborations among students, faculty, industry and government. Construction of Fuse began in April 2022, and the facility is expected to open in 2025.
"The School of Business at George Mason University is positioning itself to become one of the thought leaders in the digital innovation and transformation space," Mishra said. "Our symposium was part of this effort, motivating new questions that have the potential to become catalysts for additional ground-breaking work in this area."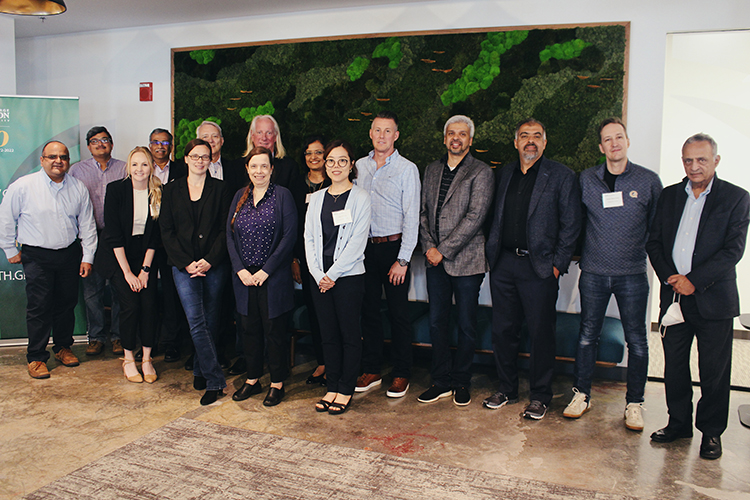 ---