In This Story
People Mentioned in This Story
Body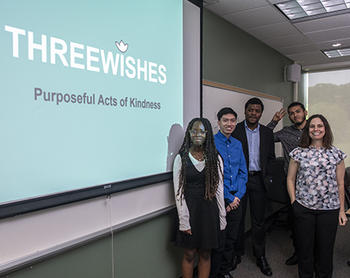 There are no magic carpets flying around the Fairfax Campus or genie lamps being rubbed, but that doesn't mean that wishes will not be manifested soon at George Mason University School of Business.
Gretchen Hendricks, instructor of business foundations, recently challenged 33 students in her BUS 303: Developing Your Professional Skills, Advanced Elements course to research and create a new business idea they call ThreeWishes.
"ThreeWishes grew out of the observed need to change the now prevalent divided, negative, and unauthentic digital landscape and renew the original purpose of social networking – to connect society," says Hendricks. "It will create an online platform intended to transform social networking by providing meaningful and intentional ways to connect with and help others."
The students in the class embraced the concept and accepted the business challenge presented by Hendricks. Throughout the course of the semester, they researched and built the business model for ThreeWishes, concluding the semester by providing a presentation of their ideas to members of the Mason Chooses Kindness Steering Committee, including Jackie Brown, area chair of business foundations, Cameron Harris, assistant area chair of business foundations, and Debbie Frey Williams, associate director of finance and internal controls of Operations and Business Services.
Students in the class spanned across all concentrations including accounting, finance, management, marketing, and management information systems.
Finance student Tabusom Hashimi said, "The quest of ThreeWishes is to make kindness the norm for everyone. It sounds simple enough, but kindness is a choice. We have all experienced the benefits of a kind act, from both a giving and receiving perspective. Acts of kindness make us feel good, they elevate our mood, and relieve stress. At ThreeWishes we believe in genies, not the supernatural kind, but the human kind. We aim to build an online community that promotes purposeful acts of kindness that can make wishes come true."
The ThreeWishes site would allow users to post up to three wishes per year, with the aim of connecting those in need with those who can help.
For Hendricks, the class is a labor of love. She says that throughout her life, her personal and professional journey has been centered on how to authentically connect people. "The mission is to transform the norm of charitable giving by offering opportunities to personalize the experience through purposeful acts of kindness," says Hendricks.
As the School of Business, we endeavor to instill a strong ethical compass, and a lifelong habit of learning, in students and stakeholders. This class captures a unique pedagogical approach to teaching and it engages students in a real-world example of how to go from an idea to an actual business plan intended to interest potential investors.
Students in the course conducted a survey asking Mason students what it would feel like to have a wish come true, and what it would feel like to make someone's wish come true. Both questions received positive feedback, leading the students to conclude that their business idea would equally benefit both parties. Additional research analyzed popular social networking platforms including Facebook, Instagram, and SnapChat and found that users most enjoyed the storytelling, personal comments, and direct messages features. This confirms that humans want to personally connect with others. Crowdsourcing sites such as GoFundMe and Kickstarter were also examined, but with a main focus on financial donations, there is limited opportunity for personalized connection. To the class, kindness doesn't require cash, but can be expressed through action.
"Our platform will connect those in need with those that can give, in a more specific and rewarding way, allowing everyone to be an everyday beneficiary or hero," says Hendricks.
In addition to investigating competitors, the class also determined the startup costs a potential rollout of the platform to the George Mason University community would entail.  
"Overall, what was learned from this semester long project is that kindness is one of the best experiences possible in life, from both a giving and receiving perspective. Acts of kindness promote compassion, empathy, and social connection, with all of these sorely lacking on today's social networking sites," says Hendricks. "The ThreeWishes concept provides an opportunity to create a socially conscious online space where genuine connections can form, not just through donating dollars, but by personalizing the giving experience. Anyone can assess what talents, skills, resources, connections, possessions, assets they have that can help others 'fulfill their wish'. The magic of ThreeWishes is that not everyone has to give back in the same way. They can give based on what they have to give."
Hendricks hopes to continue to partner with a group of students from her BUS 303 course as well as other entities on campus that will allow for continued development of the business idea and a potential future pilot of the ThreeWishes site at Mason.
"It's time to champion socially conscious influencers of kindness and make it the new norm," says Hendricks. "Just one act of kindness can have a big impact and potentially change someone's fate."