Body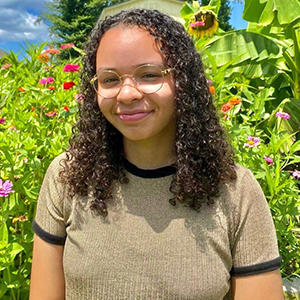 Communicating effectively and being able to think on her feet are two ways Jordan Dockery has grown as a Student Ambassador at George Mason University School of Business. Dockery, who is a senior studying marketing, says her favorite topic to discuss with prospective students is study abroad opportunities.
"I went to Mason Korea fall of 2021 to study my business core classes and loved it, so if I can share my experience and convince others that studying abroad at Mason is workable with business classes, I do," says Dockery.
While in Korea she especially appreciated immersing herself in the culture. "I loved living in the city and experiencing life from a unique perspective. We were walking distance from a subway station so I could just get on it with friends and go explore Seoul, which wasn't too far away from campus." Dockery says that studying in Korea is "an experience like no other, and it will allow you to grow as an individual and gain a global understanding of another country."
The Student Ambassador program, established in 2016, hires current students to help foster a connection with, and provide firsthand testimonials to those considering attending Mason. Student Ambassadors provide campus tours, lead panels at special events, and most importantly answer questions from prospective students.
Dockery advises perspective students to attend the Get Connected Fair. "This will allow them to see all the clubs Mason has and see what stands out to them. Do not be scared to be involved. Find people and make friends—make a community to call your own. I would also suggest reaching out for help—self-advocacy is important whether you are struggling in a class or need other kinds of help. There are resources on campus that can help you—going to college is a new chapter of your life, so enjoy it and get help if you need it!"
Speaking with prospective students during the Spring Preview 2022 is what Dockery enjoyed the most. "This stood out to me, because as a marketing major, I could share my experience in marketing classes, and having finished all of my business core classes. I could also tell them it's okay not to know what to do right away. Business undecided is still a good choice because business core can help you find what you like. Prospective students would also ask about internships and research work. And this past spring, I had a research assistant position so I could assure prospective students that it is possible to get one during your time at Mason."
Asked what the most rewarding aspect has been being a Student Ambassador, Dockery says "Being a part of the decision-making process for prospective students and the amount of self-growth I have experienced, due to gaining new public speaking skills."