Body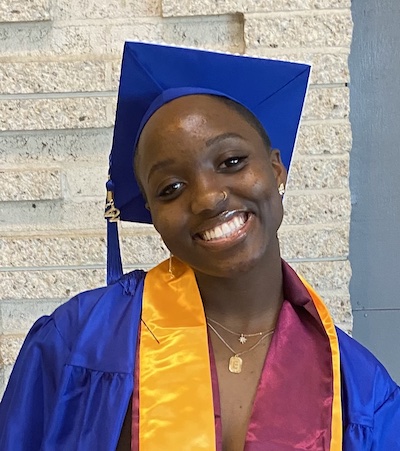 By the time Enayah Smith stepped on George Mason University's campus for the first time as an enrolled student this fall, she was already more than a third done with her four-year degree. 
Smith, who will be studying business analytics and minoring in sociology, said she is transferring 54 college-level credits with her, thanks to an associate degree she earned while attending William Allen High School in Allentown, Pennsylvania, and participating in the Upward Bound college preparatory program.
"I'm glad that I was able to take off about a year, because I really want to go to law school after I graduate," said Smith, whose associate degree is from Lehigh Carbon Community College. "Mason was also a good choice because it's in proximity to Washington, D.C., so I can get a lot of internships."
Smith said she's particularly interested in family law, a focus that stems from looking back at her and her friends' childhoods.
"I am very fortunate to say my mom was somebody I could turn to no matter what—she played a really big role in my childhood," she said.
Though Smith said she would love to go back to her childhood if she could, her friends were not as fortunate. They would speak about how their parents fought over them in a divorce, or how they grew up in the foster care system, Smith said.
"I want to make sure that children experience the same thing I've experienced, versus my friends who are ready to grow up so they can get out of those childhood traumas and experiences they had," she said.
While at Mason, Smith said she's looking forward to opportunities that will help her meet her professional goals, but she's also excited to have fun.
"I am really looking forward to all the opportunities [Mason] offers," she said. "They have anything you could think of for recreation…and there's so many people from so many different walks of life."
"I feel like it's just going to be a great opportunity to learn about people and learn about myself."