In This Story
People Mentioned in This Story
Body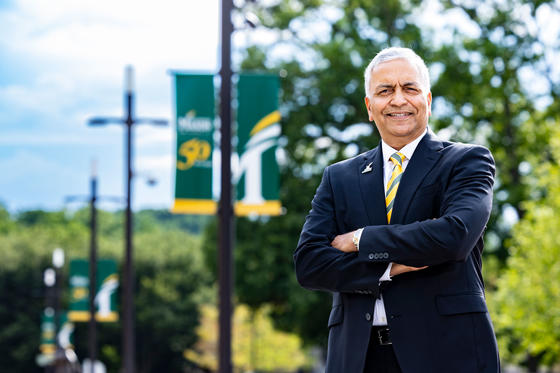 On July 1, 2022, Dr. Ajay Vinzé began his tenure as the new Dean of George Mason University's School of Business. We sat down with Dean Vinzé to get to know him and learn about his first job, his favorite activities, and more! 
What was your first ever job? 
When I was in undergraduate at my commerce college in India, I was put in charge of managing the dorm's food services. It was my first exposure to business so to speak. Each college was like a separate business and they run and manage their own student services and dorms. They call it a mess and the decisions we were in charge of included what we ate, how much we charged, and we had to make sure that we broke even with the expenses. It was fun to work with the other students and figure out what everyone wanted and how much they were willing to pay. 
 
Why did you decide to go into teaching and higher education? 
As I started my professional career, I was in the more traditional consulting business. And so, I was with a major consulting firm in the Philippines and quite by accident I got into the field of information systems. My training was in accounting and finance, but this was in the early 80s and my company asked if I wanted to be trained in technology. They put me in a couple of programming courses and I really liked what going on. I became even more fascinated after I joined the PhD program. 
My mother used to be a teacher and I've seen the impact on students over a period of time. Her students come to her years later to reconnect and it's awesome seeing how you impact someone. When the students succeed, you feel really good, like basking in their glory. It's a phenomenal feeling that's very difficult to explain.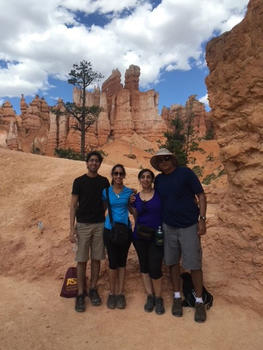 What's a fun activity you like to do in your free time? 
Every year my family chooses a place to go visit and see intensively. We've been to many places including Japan and Hawaii recently, but it's always a place where we agree we want to see something. Most recently was the trip to Japan where we covered the entire spine of the country, starting in Tokyo and going all the way down. It's a fun bonding experience to travel and learn together. 
A big part of those trips is the hiking. My bucket list item, before I took this job, was to hike the Grand Canyon, and that's something I'd still like to do at some point. Being out in nature with just yourself and your thoughts and all the natural beauty around you is fantastic. It's a great way to get lost in your own thoughts and that's where I get some of my best ideas. 
 
On a personal level, what are you most excited for living in the region? 
I'm fascinated by the Washington, D.C., area. There is so much to do and we're just getting started. I love going to museums, and just the other week we went to the Air and Space Museum. At museums there's so much to cover in a limited time, so living here, I can keep going back. 
There's something about a capital city that has a unique feeling, and DC is arguably the most significant capital city in the world. I grew up in many capital cities around the world and I've traveled to many others. They seem to signify the feelings and culture of that entire country. I haven't had the chance to explore much of DC yet, but like I said, I intend to visit the museums and of course the monuments. I'm also excited to explore the surrounding natural beauty like the mountains and the ocean.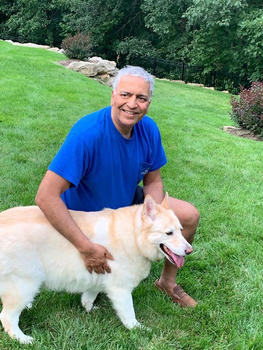 If you weren't working in higher education, what would you want to be doing? 
I feel passionately about animals and, in particular, dogs. I've always worked with various dog organizations like Power Paws in Arizona and the Humane Society. The intention is not the business side for me, but just being with the dogs. That being said, I know I would enjoy working with them on the business side as well. I've had a rescue dog of my own for the past eight years and I love posting her pictures on Instagram.