Body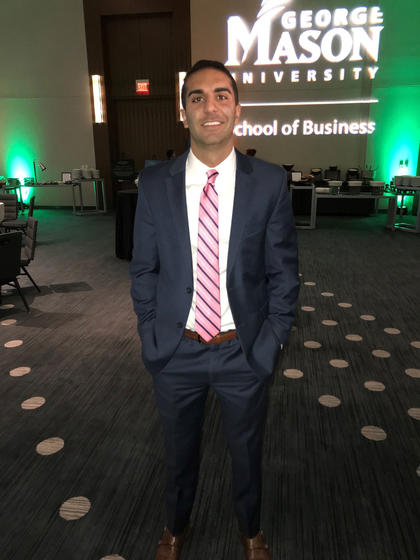 The financial support that comes from receiving the Emerging Business Leader Award (EBLA) is significant, but for Nema Djavadi, BS Finance '17, the recognition itself was most beneficial. The award opened up doors to prestigious employers and peers, allowing him to build a remarkable network, all while still an undergraduate student.
Djavadi chose George Mason University because of the unparalleled business connections that the university and region offer. "I wanted to intern every year while in school and at Mason I was able to do just that," he says. Inside the classroom he was taught skills and strategies he still utilizes today in his current role as senior manager of global strategy and planning at Workday, a software vendor providing financial management, human capital management, and analytics applications designed for organizations ranging from medium-sized businesses to Fortune 500 enterprises.
Djavadi believes that the opportunities he pursued at Mason set him ahead of the competition, including those who graduated from Ivy League universities. Working on a team of six data modeling professionals at Workday, Djavadi draws upon the expertise he developed in Mason courses like the finance capstone class taught by Shelly Canterbury. "Professor Canterbury's course focused on data modeling using Excel, a subject central to what I do now," he says. "In my job, I enjoy how everything is based on numbers and I can set strategy based on that data." His education featured lessons with real world application that are now paying off.
Gifts to funds like the School of Business Alumni Chapter Emerging Business Leader Scholarship Endowment are instrumental in helping students make ends meet and the recognition helps recipients land their dream jobs after graduation. "Donors to the Emerging Business Leadership Scholarship are opening up doors for students by providing them with a conversation or interview starter and the networking opportunities that go with it," says Djavadi. In fact, the evening that he received the award, he met a number of high-profile business leaders and was even interviewed for a position of interest he ultimately turned down. "To this day, I continue to list the EBLA on my resume and the interviewer always asks about it," he says.
Nema Djavadi's networking within the Mason community didn't conclude after his scholarship award ceremony or graduation. Living in New York for a time following school, he has returned to the Northern Virginia region and is enjoying meeting fellow Patriots at networking events like the Annual Business Celebration. "It's really fun to learn about people, what they do, and also hear about their Mason experiences," he says. The Northern Virginia and Washington, D.C., area workforce is highly competitive but also full of opportunity. Anything that sets a candidate apart is invaluable. With generous donors, skilled faculty, and countless other resources, the George Mason University School of Business has a bounty of advantages that ambitious students are seeking.
Topics