Body
Fabrizzio Ramirez, a current graduate student pursuing a Master's in Real Estate Development, has been kind enough to share his thoughts about his experiences at George Mason University as an international student.  
What are you passionate about and why?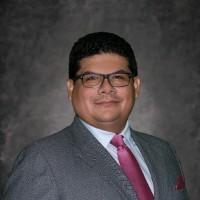 I am extremely passionate about design, construction, and real estate, especially about the process of how an idea on a piece of paper becomes a project and a deal and ends on a tangible. It's a passion that I have nurtured since I was a child, thanks to my father's profession as an architect. Growing up, I would often accompany him to construction sites, and I learned to love the business and the entrepreneurial spirit that my dad has. Becoming an architect was a natural choice for me, and my undergraduate studies taught me that design is not just about creating something beautiful but also about creating a sense of comfort, happiness, and well-being. 
I believe that design is an essential part of the real estate business, and it's what drives the entire process. Whether it's a design, construction, or a deal, I am passionate about the process of bringing something from a piece of paper to life. There is a sense of satisfaction that comes with seeing something you have created become a reality. That's what I find so fulfilling about this business, and that's why I'm so passionate about it. 
Why did you decide to seek Mason's Master's Degree in Real Estate Development? 
For me pursuing a master's degree in real estate development was a natural progression for my career because as an architect working for a real estate development company that focused on housing and commercial projects, I witnessed firsthand how intricate and fascinating the real estate cycle can be. I was fascinated by how all the different parts of the process interacted to create a final product. However, as an architect, I felt that I was limited in my scope and that I could only contribute to one aspect of the process. And for me, it wasn't enough. 
I realized that to be fully involved in the real estate development process, I needed to expand my skill set beyond architecture. That's when I decided to pursue a master's degree in real estate development to complete my professional goal. My first master's degree gave me some management skills, but I wanted to dive deeper into the world of real estate development and learn about the various aspects of business. 
My goal is to become a real estate developer in a larger market than my own country, and I know that to achieve this, I have to dream big. Pursuing a master's degree in real estate development will allow me to gain the knowledge and expertise I need to take on bigger projects and contribute more to the process. I am excited about the possibilities that this degree will bring and can't wait to see where it takes me in my career. 
What has been your favorite class so far (or favorite professor?) And why? 
As I approach the halfway point of my master's degree program in real estate development, I must say that I'm really enjoying it so far. Although this semester has presented some challenges, particularly with the finance class, I'm doing my best to keep up with the coursework. As an architect, finance wasn't one of the subjects I studied during my undergraduate years, so it was a steep learning curve for me. And with English not being my native language, it made things even more challenging. However, having a great professor like Dave Sislen made all the difference. 
Professor Sislen is not only an excellent professional, but he's also a genuinely transparent and authentic great person. His classes were about finance, REITs, investments, loans, and Wall Street have really opened my eyes to understanding the 2008 financial crisis and what's currently happening in the financial world. The experience has changed my perspective entirely, now I read the financial section on the news because I actually understand what they saying. 
I must admit that Professor Sislen's classes  were a bit rough in the beginning and leaves you wondering if you'll make it to the finish line in one piece. But after it's all said and done, you feel amazing and have learned so much. He shares his own experiences, from success stories to failures, which makes the learning process even more valuable. It's challenging at the start, but it's entirely satisfying by the end. 
Can you describe the differences between studying in the U.S. and your previous destinations of Amsterdam and Ecuador? 
I completed my first master's degree in construction company business management through a European program jointly offered by Universidad Politecnica de Madrid and Universidad San Francisco de Quito, which was tailored to the Ecuadorian market. I also gained experience through an exchange program in the Netherlands. As an architect, my undergrad school of design has a European style influence, particularly in urban design and architectural styles. 
Studying in the U.S. for the first time has been an eye-opening experience for me. I've noticed significant differences in the way urban development, housing, and commercial business are approached here compared to Europe. One of the most exciting aspects of the program is the diversity of professional and cultural backgrounds among my classmates. I've had the pleasure of meeting people from all over the world, and the opportunity to learn from them has been invaluable. 
The European program I completed was quite intense, with classes held every day, 21 courses, and a total of 63 credits. 
What skills have you gained from Mason's Master's Degree in Real Estate Development that you can use in your future career? 
The program offers a great opportunity to dive into the U.S. and regional markets. As an international student, everything is new to me. We learn about the process from entitlements to the design and construction process, how to approach land business, and most importantly, we get firsthand experience from our professors on how to tackle these issues.
I've been learning about the cycle from legal, technical, and management perspectives to achieve a great deal at the end of the day and reduce risks. The program teaches us that this business is all about risk, time, and money, and how to manage these factors to succeed. 
In every single lesson, recommendation, and shared experience, both the professors and my classmates contribute their knowledge and experiences, which we can all benefit from in the future. The program is not just a regular master's program; it's an open source of knowledge and experience that everyone can tap into to advance their careers. 
What advice do you have for other students who are considering studying abroad? 
[Mason] is a great place to be. The Master's in Real Estate Development program is not just an academic source of knowledge but also a community of top-level professionals. I am thrilled with my decision to enroll in this program because it is a step forward toward my professional success. This program has won the Capital Challenge from NAIOP, a competition between the most important real estate programs in the Washington, D.C., Maryland, and Virginia region, for the second time in a row, and six times in the last ten years. This is a testament to the level of professionalism of the program. 
As international students, we face extra challenges to graduate from any program in the United States. It may be the language barrier, cultural adaptation, or a completely new market that we have to dive into when we arrive here. However, we are faced with an important decision to bet our future on the right program. Here, we share our doubts, nerves, and fears. My dad used to say to me, "The only way to win the lottery is by buying the ticket," and George Mason University is that ticket that can lead us to find our opportunities and reach our professional ambitions. This program is a tool to reach that future, but our commitment to our dreams is what determines our success. 
---
Learn More