Body
In August of 2023, Second Lieutenant Mark Cayanan, BS information systems and operations management (ISOM) '22, graduated with honors from the United States Air Force's (USAF) Undergraduate Cyber Warfare Training program.
Top of his class, his accolades included the Honor Graduate Award, the Distinguished Graduate Award, and the peer-nominated Outstanding Contributor Award. The successes that he experienced in cyber training were not a big surprise given his ambition and the achievements he previously had at the Donald G. Costello College of Business at George Mason University. There he was an engaged participant and leader in the classroom, eager to take advantage of any opportunity to advance his education and career, including ROTC training, serving as a research assistant, and taking an innovative new experiential learning course.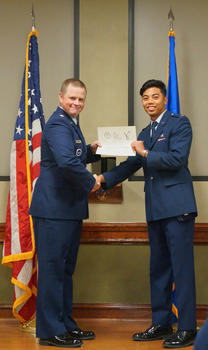 While studying at Mason, Cayanan thrived with hands-on learning experiences. Much of his professional and personal development was due to the USAF Reserve Officers Training Corps (ROTC) program, where he led teams of 15 cadets or more to execute weekly training plans for the largest cadet wing in the northwest region. His leadership success was recognized as he was selected as one of 105 cadet training assistants (CTAs) to provide training and instruction to ROTC cadets at Maxwell Air Force Base. Continuing to impress, he was named in the top 5% of the CTAs. Throughout the process, he found people who would bring out the best in him. "My current successes all start with the people that have supported me and guided me towards opportunities which helped me develop in all aspects," he says. "During ROTC, my cadre gave me the necessary tools to grow as a leader, especially Captain Joshua Rager who prepared me to be the best leader I can be."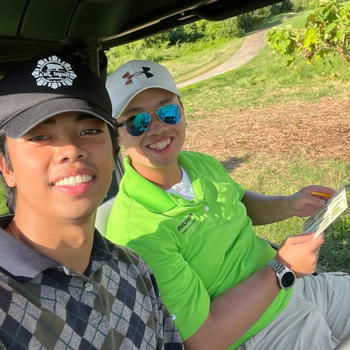 Through the MIS 330 Systems Analysis and Design course, Cayanan first met Brian Ngac, an instructional faculty member and dean's teaching fellow for ISOM. After seeing Cayanan's leadership, work ethic, and enthusiasm in the course, Ngac recommended that he enroll in the new experiential learning (EXL) course that he was developing. "Mark excelled at the EXL effort, leading his team to delivering the right solution for his industry client—who was very pleased," says Ngac. Cayanan would also take Ngac's honors course on cybersecurity before becoming his undergraduate research assistant, funded by the Commonwealth Cyber Initiative (CCI). "With all the support around me and the unique experiences I gained during my time at Mason, I felt like it was impossible for me to fail," says Cayanan.
Between his graduation from Mason and enrollment at the USAF Undergraduate Cyber Warfare Training program, Cayanan was hired as an associate systems engineer with Parsons Corporation. His work at the engineering and defense services company focused on setting up a digital engineering lab and doing the groundwork for a USAF chemical, biological, radiological, and nuclear (CBRND) project effort with the Department of Defense's Joint Program Executive Office CBRND.
As much as he has accomplished, it is hard to believe that Cayanan is still a recent graduate, just getting started in his career. "While I am proud of my accomplishments, there is still a lot more for me to achieve," he says. "Success does not mean anything to me if I cannot help others, so I plan to pay the efforts of those that have supported me forward by providing others opportunities to succeed as well." Ngac remains an important part of Cayanan's support system to this day, as the two regularly hit the golf course together. "I definitely feel better knowing we have cyber operators like Mark working in the services," says Ngac.
In This Story
People Mentioned in This Story