Body
Tiago Requeijo, director of Mason's Master's in Finance (MSF) program and assistant professor of finance at the Donald G. Costello College of Business at George Mason University has taken a unique journey from his studies in mathematics to a career in the finance industry.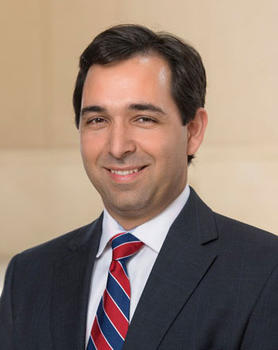 Prior to joining Mason, Requeijo was a director at The Rock Creek Group, a global investment and advisory firm based in Washington, D.C., and also spent time with the Securities and Exchange Commission (SEC) and Goldman Sachs in New York. 
As the program director, Requeijo is looking to build a robust network of finance professionals, both regionally and globally, to support both students and the program. 
Recently, we had the opportunity to chat with Requeijo to learn more about his unconventional journey in the finance field, his teaching style, and his thoughts and vision on how Mason's MSF program is All Together Different.  
What brought you to George Mason? What do you appreciate the most about Mason?  
George Mason University holds a significant place within my family. Prior to joining the University, my wife was already serving as a professor at the Costello College of Business. This prior connection afforded me an invaluable opportunity to immerse myself in the school's culture and the university mission even before I formally joined the faculty. I have always been inspired by the profound impact that Mason faculty can impart on its diverse student population.
What are you most proud of in your academic or professional career?  
I commenced my career amidst the turbulence of the financial crisis, a time when the industry was undergoing significant shifts. This time period and the consequences that would have on my career, though unexpected, provided a vantage position from which I could gather diverse experiences.
I'm proud that I had the privilege to serve across a spectrum of roles and institutions within the finance industry. My professional experience includes working for a fixed income division for a large multinational, a large investment bank, a regulator, and startups in the payments sector, credit card industry, hedge funds, cryptocurrency, and the new field of financial climate technology.
You were not a finance undergrad, nor did you have a graduate degree in finance. How did you end up as a finance professional and faculty member?  
Indeed, my academic background is anchored primarily in applied mathematics, in which I earned my doctorate degree, and it is complemented by a foundational understanding of computer science. This interdisciplinary expertise positioned me advantageously to commence my professional career as a quantitative analyst on Wall Street. While I might not have started with a conventional finance education, the hands-on experience and teams I worked with provided me with the knowledge I lacked coming in. 
As I progressively evolved in the industry, namely having been exposed to many different sectors and companies, I realized that I had unique insights that could be valuable to others. This realization, coupled with a passion for education, made the transition back to academia a logical progression. As a faculty member, I now have the privilege of imparting both my academic knowledge and real-world experiences to the next generation of finance professionals.  
As a faculty member with a lot of interests outside of academia, what are you working on right now?  
I'm still deeply connected to the finance industry as a whole but lately with a strong emphasis on the financial technology (FinTech) sector. Currently, I am collaborating with companies specializing in payment solutions, cryptocurrency, and the carbon credits market.  
As a professor, what are your teaching strategies? What is the most rewarding aspect of teaching?  
In my role as a professor, I strive to create an environment where students are both engaged and intellectually challenged. My objective is to foster comprehension of the subject matter, ensuring students are not only versed in theoretical and introductory concepts, but are also able to contextualize and apply these notions in real-world scenarios. To accomplish this, I often deviate from traditional lecture formats with class discussions and bring examples from my professional experiences outside academia. Additionally, beyond the ever-present finance spreadsheets, I try to include as many new technologies as possible (machine learning, AI, data science, etc.) that are helpful for students to understand and master the material.  
One of the most gratifying aspects of my teaching career is the perceived impact my courses have on students. It is immensely rewarding to engage with alumni who recount the relevance and applicability of classroom discussions in their professional trajectories and how they benefited from them.  
As academic director, what does the future of the MSF program look like?  
As the academic director at the Costello College of Business, my vision for the Master of Science in Finance (MSF) program is both expansive and forward-thinking. Our overarching objective is to provide our students with a premier education, one that is world-class in its depth and scope, ensuring that they derive not just academic knowledge but tangible value that will positively impact their professional trajectories.  
One of our primary strategies to augment the program's value proposition involves expanding its reach. We are focused on cultivating a robust network of finance professionals, both within the Washington, D.C., region and on a global scale. This network is not only an asset for our current student body but also a valuable resource for our alumni.
Furthermore, we recognize that the world of finance is in a perpetual state of evolution, driven by technological advancements and shifting market dynamics. In response, we are constantly revisiting and looking at areas to improve our curriculum. By integrating cutting-edge technologies and introducing topics of emergent relevance, we aim to ensure that our graduates are not just prepared but are at the vanguard in order to excel in a competitive workplace environment.  
At the Costello College of Business, we believe that the future of the MSF program is one of growth, innovation, and unwavering commitment to academic and professional excellence. 
What do you hope to accomplish in this new position?  
As mentioned in the previous question, I'm hoping that we are able to continue expanding our reach within the Washington, D.C., region and on a global scale. This includes not only recruiting a diverse student body but also continuing to build a strong network of finance professionals who are connected to our school. In particular, we want to have a strong network of employers, recruiters, and alumni who are aware of what we are doing in our program and who can also benefit from the interaction with the program and graduates.  
What is some advice that you can give to future applicants and students in your program?  
My best advice is to reach out to our faculty and take advantage of the alumni network we have at Mason, specifically at the Costello College of Business. Being one of the largest universities in Virginia, we have a significant presence in the Washington, D.C., area and an extensive alumni network that students can and should leverage as they embark on a career in finance.  
What are some of your favorite things to do in your off time?  
I enjoy playing and watching sports, and spending time with my family.  
Tell us an interesting fact about yourself.  
I love chocolate. If you've been in my economics class, you probably know that :-)  
---
Mason's Master's in Finance program prepares you for a career in commercial banking, investment banking, corporate finance, regulatory finance, or portfolio management. No finance background is required to apply; in fact, the program encourages applications from all quantitative backgrounds such as engineering, math, statistics, physics, and computer science.
The program is also the first and only Chartered Financial Analyst (CFA) affiliated master's of finance program in Virginia.
If you're interested in learning more about Mason's Master's in Finance program, register for an upcoming info session or request more information about the program here. 
In This Story
People Mentioned in This Story